As the urban agriculturist guided us proudly through Amrit-ki-kheti, the all-organic, community-developed, eco friendly urban jungle cum farmland near Friends' Colony, he pointed out some unique and extremely rich compost that they had fished out of the Futala Lake: the remains of traditional Ganesh idols made of mud, bamboo, jute fiber and rice husk. The vegetables thriving on this eco-spiritual compost seemed twice blessed. Healthy corn cobs, tomatoes, chillies, and eggplant flourished alongside cheerful marigolds – a testimony to Lord Ganesh's promise to grant abundance to those who worshipped him with true faith and wisdom!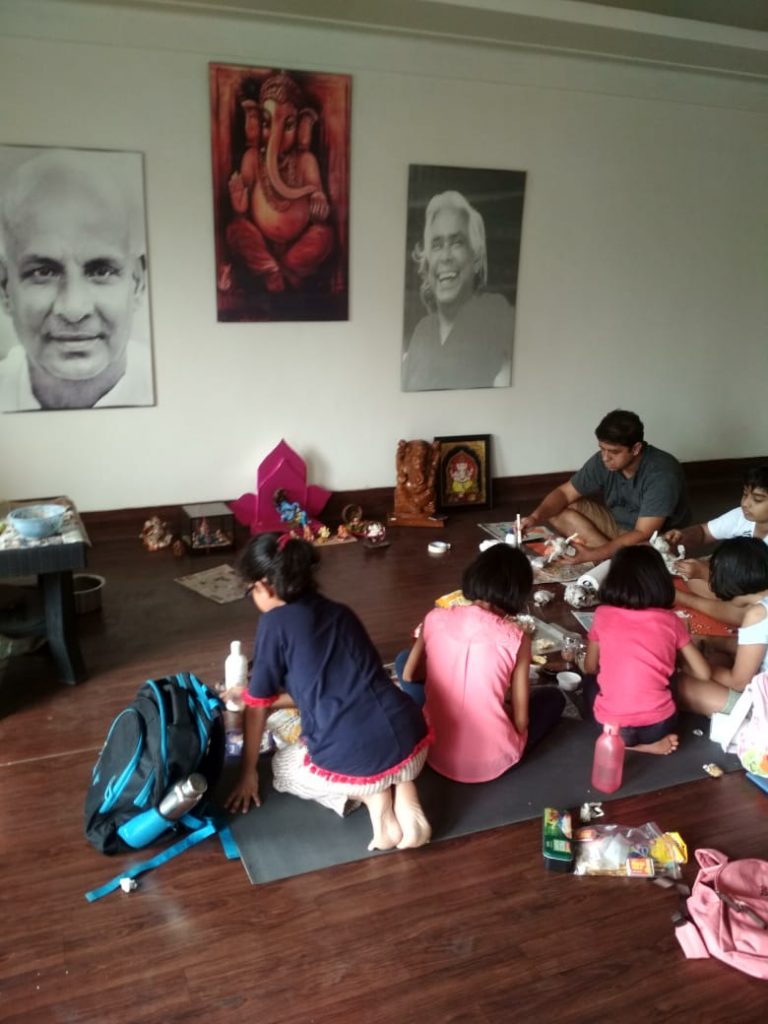 The modern trend of sidelining all that is natural, whether in farming or religious worship or lifestyles, runs contrary to all that our prayers seek as blessings: Riddhi, Siddhi, Buddhi (Wealth, Prosperity, and Wisdom).
With liberalization and ruthless urbanization, festivals have become a competitive affair – the largest idols, the costliest firecrackers, the brightest colours, the most lavish dinner spreads, the raunchiest music, DJ et al. Every festival, when not celebrated in sync with nature, leaves in its wake human and environmental casualties of colossal proportions. Thus, despite bans on POP idols, we have water bodies contaminated with non-biodegradable POP, toxic colours and plastics that careless devotees discard, callously killing fish and other life forms. The "Ek Dant, Dayavant" (Lord of Compassion) would surely not approve!
Water and harmful colours are still splashed around with a vengeance on Holi, despite celebrities endorsing dry, organic colours. Few know that precious trees are sometimes chopped mercilessly to feed the Holika Dahan. Rich co-operative societies, while within their rights to celebrate any festival as they wish, tend to go overboard with their spreads. Families who have never known poverty or hunger or water scarcity or power deprivation indulge some more in rich foods, sweetmeats and costly lighting and decoration, with each society upping the ante when it comes to contributing to the festivities. Few realize that an eco-friendly idol is not all it takes to respect the environment. There is a contamination of minds and hearts here, an assault to the senses in this mindless game of "spiritual" one-upmanship.
The tussle between development and tradition need never occur if one keeps in mind the raison d'être of community worship. "Sarvajanik Ganesha Utsav", for instance, was revived by Lokmanya Tilak to circumvent the British ordinance banning public assemblies of more than 20 people. Tilak recognized Lord Ganesha's widespread appeal, and he hoped the public celebrations would cut across caste and class barriers and consolidate grassroots unity among the masses.
This unity could also be strengthened through simple, non-expensive, earthy, grounded, eco-friendly celebrations, with a solemn pledge and prayer at the start of every festival, that no form of worship shall be undertaken that inflicts the slightest harm to the supreme manifestation of God – Nature itself. A new social order is indeed the need of the hour, and that order could be found in a common reverence for nature. The blessings would be bounteous!
So, as the conches blow, inviting devotees to pay homage to the Lord of the universe, let us not forget that the Lord and the Universe are synonymous. Defiling the universe while "worshipping" the Lord would be an act of impiety, not a prayer.
Why put ecology over the economy, eco-skeptics may still ask? Because, as Ruskin Bond, our very own Wordsworth puts it with his trademark simplicity: "and when all the wars are over, a butterfly will still be beautiful."
The Lord is here again to bless his devotees. His blessings though will be visible if you have the wisdom to obtain it in the right way. His blessings are routed through nature and the natural world. The trees and water give us the gift of life. By destroying them we will achieve nothing however grandeur we may infuse in our prayers. So let us all realize the importance of the ecology which supports our very existence and protect it so that it provides us with the pathway to bring blessings to the masses.
The workshop was organised by Dr. Abheek Ghosh, taught by  Swati Guys, Divyashree Das volunteered & helped by Architect Parikshit, Vignesh Iyer, Dr. Jaydeep Das, Sachin Kale, Shivam Wagh, supported by Ek Vadal Bhartacha, United for Animals.
Get all the latest and current news Nagpur here. For exclusive & live updates from Nagpur, stay connected with THE LIVE NAGPUR.