Drop your phone, ditch the iPad and enjoy the wonders of the tech-free world in these out-of-the-way New Zealand destinations.
In the US, the National Day of Unplugging takes place in early March but we reckon that should apply around the world and, in New Zealand, any day or week of the year is good. So, turn off your mobile roaming (or better still, leave your phone at home) and immerse yourself in perfect silence at one of these spectacular off-the-grid locales.
Peas in a glass pod
The most comfortable way to be fully immersed in nature, a PurePod is pretty special and pretty much unique to New Zealand at this stage. When we say immersed, we mean immersed: the "pods" are made entirely from glass, and this includes floors and ceilings.
While they don't have television or internet coverage, they do feature the most advanced environmentally-friendly tech available for the generation of power and disposal of waste. PurePods are integrated into the breath-taking natural environments they inhabit (there are six locations around the Christchurch region) and feature views of sea, mountains, rivers and the glorious southern night sky.
Travel Tips
All the PurePods are accessible by car from Christchurch and two of them are close to Kaikoura. Private parking is provided at each location, then visitors walk through beautiful landscapes to access their pods. The best time to visit is spring and autumn when the countryside is at its prettiest.
PurePods are integrated into the breath-taking natural environments they inhabit and feature views of sea, mountains, rivers and glorious southern night sky Credits- Greystone PurePod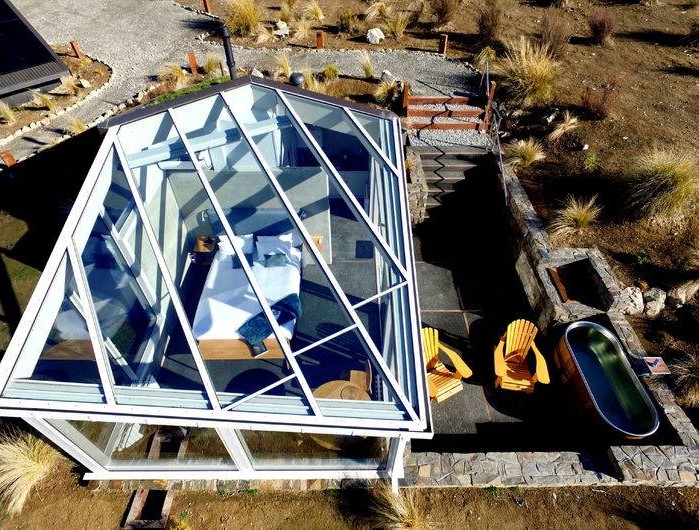 Sky's the limit
Forget air pollution: the pristine Mackenzie Country offers unimpeded views of the glorious southern night sky. SkyScape at Omahau Hill Station offers visitors the opportunity to soak up the stars in a SkyBed – a recessed, ground-level bed underneath a roof of glass.
Meanwhile, outside there's a 2m-long bath crafted from steel and cedar and fed by a nearby freshwater spring. Enjoy the scrub- and tussock-strewn landscape by day, and when darkness falls, watch the universe unfold in all its star-studded glory.
Travel Tips
SkyScape is a 10-minute drive from Twizel, two hours from Wanaka, or three-and-a-half hours from Christchurch. It's located on the 2428ha farm of Michael and Elaine Lindsay, who run sheep and cattle across its rolling hills. As the location is isolated, you never have to worry about the crowds.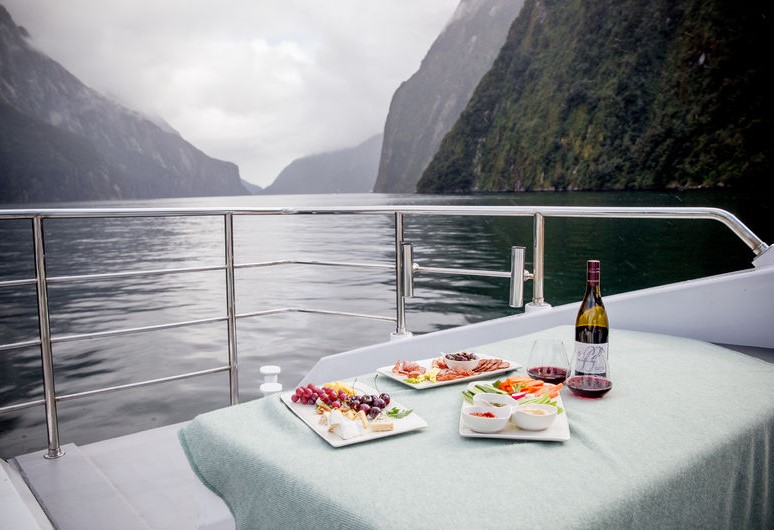 Glamp it up
For some, camping can be a trial (insects, wet weather, minimal facilities) but glamping offers all of the fun with none of the "ew" factor. Clifton Glamping in Hawke's Bay features such home comforts as hot water, fine linen on a king-sized bed and even an outdoor bath. The "glamping site" overlooks a beautiful, slow-flowing river and you get the feeling you're a million miles away from civilization (in reality the nearest town is just five minutes away).
Travel Tips
Located a short (20 minutes) drive from Napier or Hastings, the Clifton Glamping site is conveniently situated for travelers. Hawke's Bay is renowned for its wineries, and there's a wealth of outdoor activities such as cycling and hiking for those who want to get a little active and stir themselves away from pure unadulterated bliss.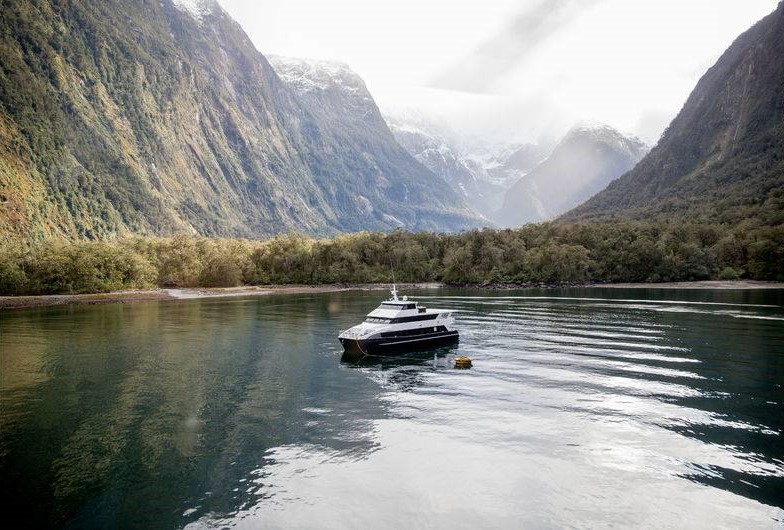 Lap up the luxury
The Fiordland Jewel takes this to a whole new level of luxe- Onboard helipad, hot tubs, and fine dining cuisine Credits- Camilla Rutherford
Few things are as de-stressing as the sound of water lapping against the side of a luxury launch. The Fiordland Jewel takes this to a whole new level of luxe – think onboard helipad, hot tubs, and fine-dining cuisine. The five-star catamaran cruises the Milford Sound and further reaches of Fiordland, offering a completely off-the-grid experience combined with blissful helpings of pure comfort.
Travel Tips
The Fiordland Jewel only takes 20 people a night, so it pays to book early. The Jewel offers overnight and private charters. Transfers are available from Queenstown and Te Anau.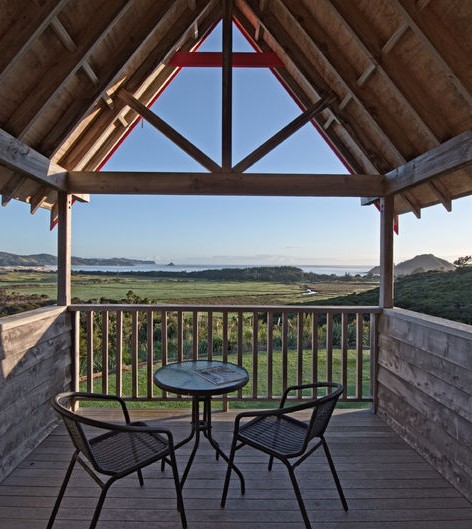 Wild at heart
Hours from anywhere, Wilderness Lodge is situated on the banks of Lake Moeraki, in the heart of the South Island's World Heritage-listed Te Wahipounamu area. It's wilderness accommodation with all the comforts you require, including spa baths and private decks. You can walk on the beach, soak up the stillness of the lake, or enjoy guided tours of the ancient forests that surround the site. There's also a restaurant on-site with an outlook as good as the food.
Travel Tips
A bus from Queenstown and the southern glaciers stops at the lodge daily. Otherwise, drive yourself to Wilderness Lodge – it's located on State Highway 6, two-and-a-half hours north of Wanaka. The weather can be wild in these parts – think rainforest and temperate temperatures year-round – but this is part of the place's charm. Spring is a good time for wildlife activity and the lodge offers guided tours to secret places where, apart from the wildlife, there's no one else in sight.
Flying high
The Fiordland Jewel takes this to a whole new level of luxe- Onboard helipad, hot tubs, and fine dining cuisine Credits- Camilla Rutherford
With no road access (and accessible only by aerial cable car or riverboat), The Flying Fox near Whanganui is ideal for unplugging. Located on the mighty Whanganui River, there is a range of accommodation options to suit all tastes. There's the James K Cottage (named after New Zealand's best-known poet), the quirky Gypsy Cart, and some campsites. The Whanganui River is a mystical and magical place, rich in both Māori and European history, and it's extremely meditative to watch the deep green waters flow by. There's not much else to do here apart from a walk through the bush and soak up the scenery, but that's the joy of the place.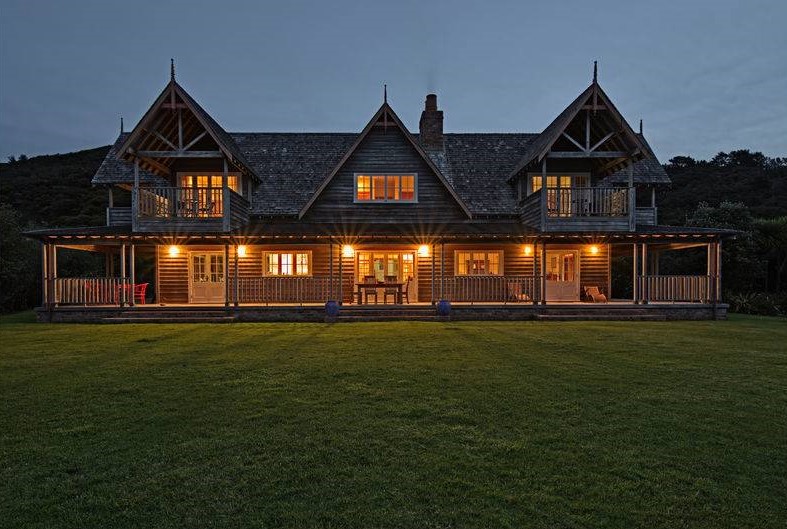 Travel Tips
There is no direct car access to The Flying Fox, so you will need to decide whether you want to get there by cable car or jet boat. However, both of these options are located within 30 minutes' drive from Whanganui.
Island life
Great Barrier Island in the Hauraki Gulf is a hidden gem just 30 minutes by plane from Auckland. Mount St Paul Estate is set in more than 40ha of pristine native bush and features a range of accommodation options and excellent food. The island has bush, beach, hot springs and mountains, and also offers great surf. All the rooms on the estate have central heating, plus elevated views over the nearby sea. Great Barrier Island also happens to be New Zealand's newest Dark Sky Sanctuary so expect sublime night time panoramas.
Travel Tips
Fly from Auckland Airport's domestic terminal or take the Sealink Ferry from its downtown wharf to the island. The owners of the lodge are able to arrange transfers from the airport and the island wharf to the estate.
Get all the latest and current news Nagpur here. For exclusive & live updates from Nagpur, stay connected with THE LIVE NAGPUR.