Hiwari Nagar Marwadi Sakhi Mandal, Nagpur in association with Lahoti Multispeciality Dental Clinic, Nagpur organised Mega Dental check-up & Dental Care Awareness workshop recently, at Hiwari Nagar, Nagpur.
Dr. Shilpa Krishankumar Lahoti, Renowned Dental Practitioner, Nagpur had examined more than 300 patients & suggested them suitable treatment plan.
During Dental Awareness workshop, Dr. Shilpa Lahoti had enlightened on various dental problems which includes, how to take care of teeth, how to prevent root canal treatment, How to Prevent Bleeding gums, how to prevent  Pyorrhoea, how to take care of kid's teeth, how to minimise cavity in tooth, how to take Special care during pregnancy, what are the Bad effects of tobacco and proper brushing Technique.
She emphasized early diagnosis of all dental diseases & highlighted the importance of regular visits to the Dentist even from childhood.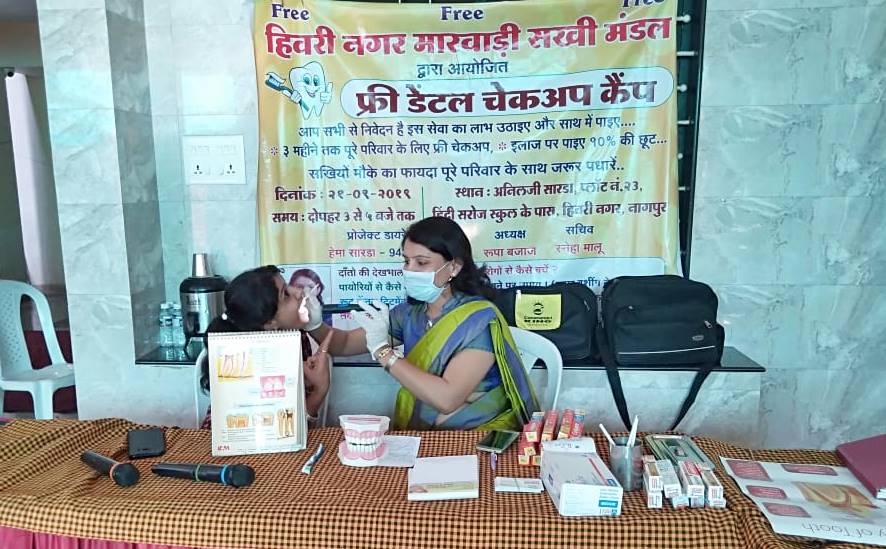 Dr. Shilpa Lahoti explained various Myths & Facts about Dentistry. She had also cleared the doubts of participants during the discussion session.
Mrs. Madhu Rawal, Garba Queen of Nagpur city was the chief guest for the program.
Mrs. Rupa Bajaj, President, Mrs. Sneha Malu, Secretary & Mrs. Hema Sarda, Project Director thanked all the participants for making this event a Great Success. Mrs. Jyoti Bajaj was a Master of Ceremony.
Toothpaste & Tooth Brushes were distributed free to all participants.
View the latest health news and discover articles on fitness, healthy living & healthcare advancements. Stay updated with Nagpur's very own 24*7 online news portal, THE LIVE NAGPUR.