Green Vigil Foundation, an Environment NGO of Nagpur city conducted an 'Eco- friendly Diwali – 'Say No to Crackers Campaign' at  Shankar Nagar Square, urging citizens to celebrate Green Diwali and pollution-free Diwali by giving up use of Firecrackers and saying yes to happiness by lighting lamps and Diyas to rejoice the victory of good over evil.
Members of Green Vigil urged Nagpurians to sign in to Green Diwali with colourful and informative placards & banners, enlightening them on toxic fumes and substances released by bursting firecrackers, their adverse impact on air quality, increased noise pollution, solid waste generation and also appealed to spare the dumb animals & Birds from the firecrackers.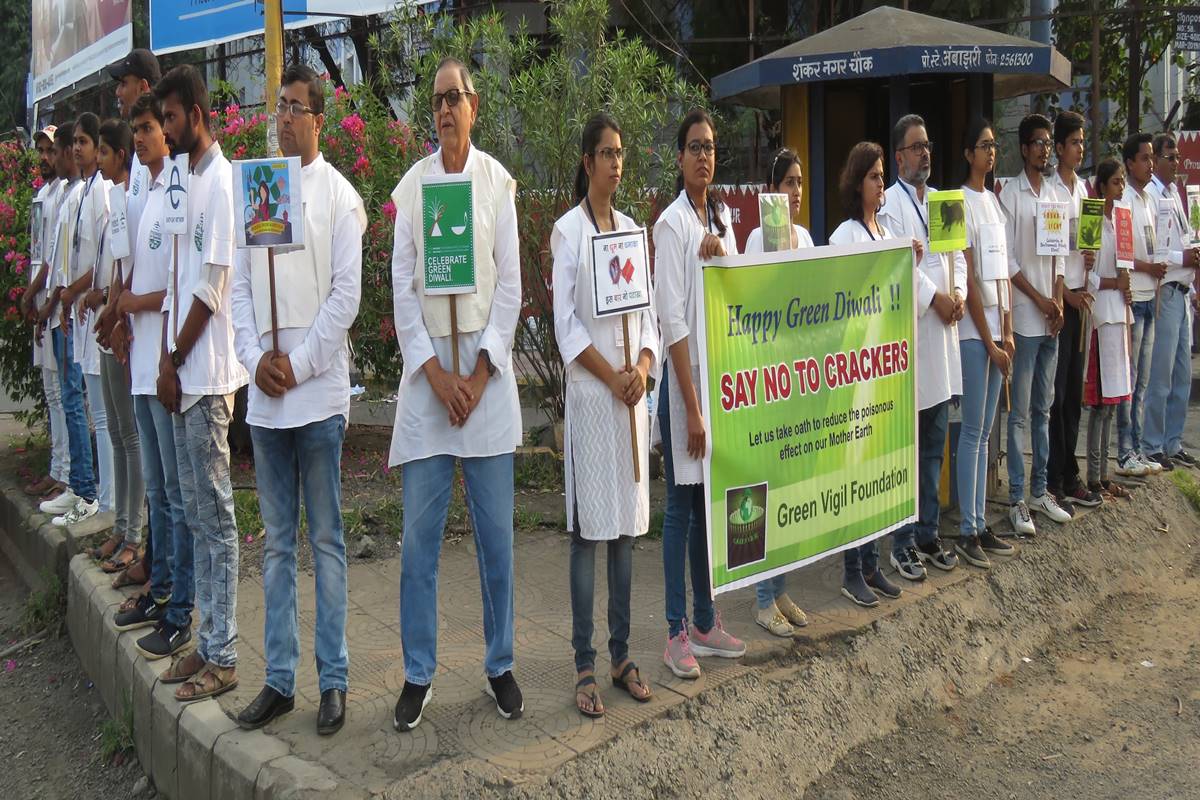 Kaustav Chatterjee, Founder, Green Vigil Foundation explained along with particulate matter, firecrackers also emits toxic chemicals  like potassium nitrate, sulphur, aluminium, zinc, cadmium, copper, lead  etc which are highly injurious to health and causes respiratory problems, skin allergy, eye and throat irritation , asthma, Blood Pressure fluctuation and so on.
Surbhi Jaiswal, Team Lead, Green Vigil Foundation, stated Green Vigil has been creating awareness on noise and air pollution due to crackers, the bursting of crackers not only disturbs the aged and the toddlers but also animal life including birds, cats and dogs.
Green Vigil Team members Kaustav Chatterjee, Surbhi Jaiswal, Mehul Kosurkar, Shakti Rattan, Sheetal Choudhary, Bishnudeo Yadav, Namrata Jhaveri, Vrushali Shahane, Digambar Nagpure, Kartiki Kawale, Advik Dasgupta, Hasti Jhaveri, Vinit Kale, Avinash Lahewar, Anand Jain, Pranit Jhade, Sanket Patil, Pravin Ghosekar, Harshal Talmale, Ujjwal Khandale, Mayuri Khadatkar, Komal Bachhil, Mayur and others worked hard for the success of the campaign.
Get all the latest and current news Nagpur here. For exclusive & live updates from Nagpur, stay connected with THE LIVE NAGPUR.