Diwali, one of the most significant festivals celebrated across the country is just around the corner. This is definitely the time for celebration, party and fun with our closed ones. However, with the festive season right upon us, choosing the right outfit can be a bit challenging and time-consuming as well.
The celebration is all about being happy, bright and colorful, so let's get trendy this season. So here is the sneak-peek of trends that will help you select bright colors, elegant designs and heavy or light jewelry that come together to create an aura of extravagance that reflects the spirit of the festive season. It is heartening to see that the latest fashion trends in India such as these are not only carving a niche for Indian wear but also working on the revival of forgotten crafts that are a symbol of the country's rich heritage.
If you have not yet chosen your festive outfit and are looking for the latest fashion trends in India then we've put together just what you need.
Select Rich Bright Colors
If shopping trends in India are an indicator, then bright colours like yellows, reds, and pinks are most popular among shoppers – they are the colours to first go out of stock this festive season! Among unconventional colours, Marsala, oxblood, and navy blue are the colours that have emerged as new favourites with the fashionista. If you want to go the conventional route, choose outfits with two or more festive colours like a combination of orange and yellow or blue and green that will make you stand out in a crowd. For women who still want to wear something shiny, go for a dress in gold or silver with delicate embroidery that looks classy and elegant. But, if it is an understated outfit that you are wearing, make sure to add a pop of rich colour via accessories and makeup to celebrate the spirit of the festival.
Silhouettes
In India this year currently there is a focus on jazzing up the traditional outfits with an edgy modern accent. So you have pre-stitched dhoti sarees worn with crop tops for an uber-chic appeal. There are also shararas and palazzo pants that are worn with kurtas – either short or long – for a look that is a mix of tradition and modernity. Another interesting trend is to pair fitted sequin crop tops with voluminous skirts with embroidery – a lavish amalgamation that never fails to impress. But above all this, what's most important while choosing silhouettes is comfort – pick outfits that you can live in and move about freely in for an entire day.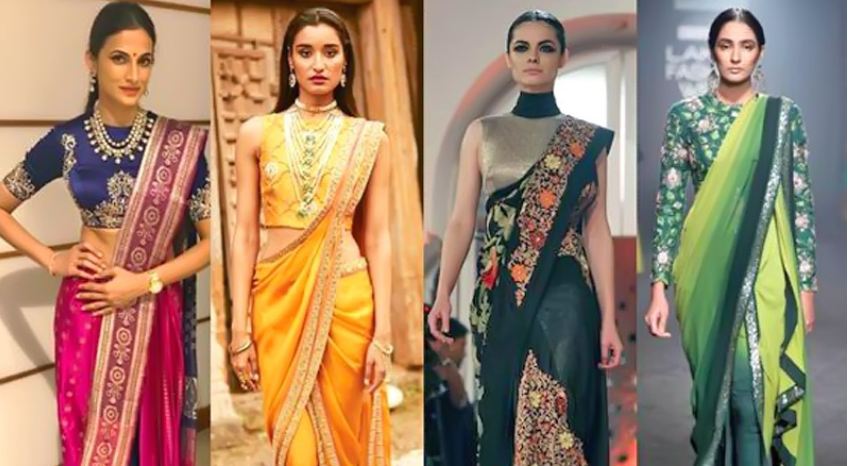 Embellishments And Detailing
Just as with fabrics, designers are going back to the roots while picking embellishments for their outfits this season. You have mirror work, Gota Patti work and zari embroidery making a big comeback this festive season and sharing space with the already popular sequin, Swarovski and zardosi embroidery. As a buyer, purchasing outfits with such rich embellishments and detailing is a way of showing your support to the craft as well as the craftsmen.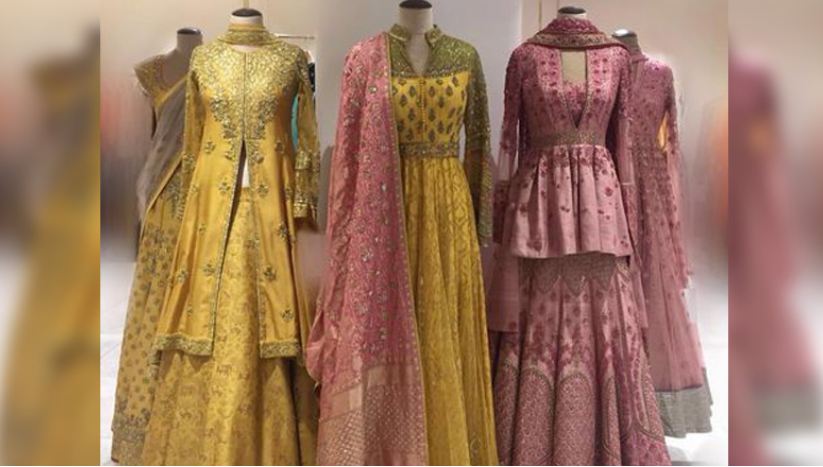 Styles
Saree is an evergreen outfit that will never go out of style. An edgily cut cropped blouse or a daring drape that hugs all your curves or wearing your saree over a pair of printed tights – the possibilities are endless when it comes to styling a saree. You could choose to wear it normally but as we said, there will be no novelty factor in the outfit if you do so. Push your boundaries and do something different in order to stand out this festive season. The latest fashion trend in India is to wear lehengas with a cropped top and a small dupatta worn like a scarf – more like a cross between a contemporary and traditional outfit.
Accessories
Last but not least, what's any ensemble without gorgeous accessories thrown in to accentuate the look? No festive outfit is complete unless you dress it up with some traditional accessories. We suggest going in for big chandelier earrings or jhumkas that will enhance the traditional appeal of the outfit. Wear a kundan choker for a fancy touch. Complete the look with chunky studded bangles, a jewelled clutch and you are all set to make a splash this festive season.
Celebrate this Diwali like a Diva you are.
Browse our collection of latest Nagpur entertainment news & Lifestyle, fashion, beauty information. Stay updated with Nagpur's very own 24*7 online news portal, THE LIVE NAGPUR.