After the election for the post of Mayor has been conducted on Friday, Gawande and Kusum Sahu, both corporators from Bharatiya Janata Party (BJP) were elected as the 16th Mayor and Deputy Mayor respectively of Amravati Municipal Corporation (AMC). Despite expressing their displeasure over the selection of candidates for the post of mayor and deputy mayor, all 45 BJP corporators remained loyal to the party. The election process for electing 16th Mayor and Deputy Mayor of AMC held with a special meeting called at Vishwaratna Dr Babasaheb Ambedkar Auditorium of AMC. Shailesh Nawal, District Collector, chaired the meeting. Voting took place by raising hands in which Chetan Gawande emerged victorious with 49 votes. Afzal Hussain got 23 votes while Mala Devkar got 5 votes. Congress which had taken hard efforts for raising its flag had to withdraw its candidates at last moment and the party extended support to AIMIM as their all plan failed.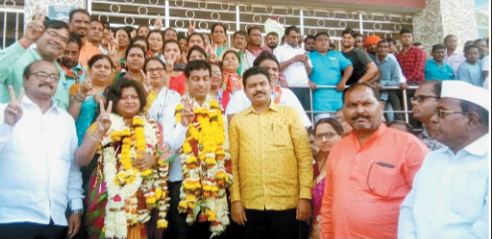 Shiv Sena remained neutral in the election. In the election of Deputy Mayor, Kusum Sahu of BJP, Mohammad Sabir Mohammad Nasir of AIMIM and Ishrat Bano Mannan Khan of BSP remained in fray. Kusum was elected as Deputy Mayor with 49 votes while Ishrat Bano got 5 votes and Mohammad Sabir got 23 votes.
Whereas Rakhi Kancharlawar of Bharatiya Janata Party (BJP) was elected as Mayor of Chandrapur Municipal Corporation (CMC) while Rahul Pawde was elected as Deputy Mayor.
Rakhi Kancharlawar of BJP, Sunita Lodhia and Kalpana Lahmage of Congress party filed nomination for the post of Mayor. Similarly, Rahul Pawde of BJP, Sachin Bhoyar of MNS and Ashok Nagapure of Congress party had filed for Deputy Mayor post in the election. Later, Sunita Lodhia, Deepak Jaiswal, Anil Ramteke, Prashant Danav, Sachin Bhoyar withdrew their nomination papers.Rakhi Kancharlavar got 42 votes and Kalpana Lahmage got 22 votes and Rakhi Kancharlawar was elected as Mayor. Similarly, Rahul Pawde got 42 votes while Ashok Nagpure got 22 votes and Pawde was as Deputy Mayor.