Experts from different parts of the world provided their valuable suggestions regarding preparation of a blue print for clean and green energy options at a three-day conference which concluded at CSIR- National Environmental Engineering Research Institute (CSIR-NEERI) on November 29.
CSIR-NEERI, in association with International Society for Energy, Environment and Sustainability (ISEES), organised this International Conference on Sustainable Energy and Environmental Challenges at CSIR-NEERI, Nagpur from November 27-29.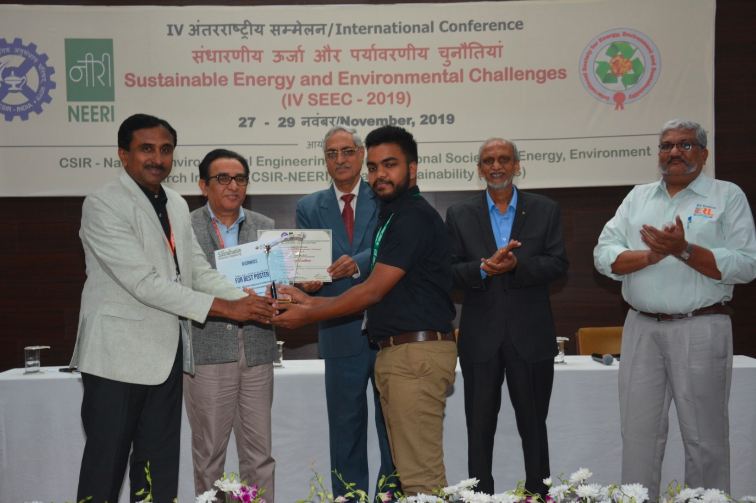 Addressing the valedictory session, Former Chairman, Central Pollution Control Board (CPCB) Prof S P Gautam said that "the real obstacle of switching over to any form of energy is the economic viability. We should try to take energy as much as possible from sun, wind and water".
He urged scientists to closely observe nature as energy is abundantly available in the nature. He clarified that green technology is the technology which is developed from plants and does not produce any residue and harmful products.
Prof. Pramod Padole, Director, Visvesvaraya Institute of Technology (VNIT), Nagpur stated about the solar project installed in VNIT Campus, which is reducing energy bill by Rs. 80 lakh per year. Prof. Ashok Pandey, Chairman, ISEES and Dr. Nitin Labhsetwar, organising Secretary were also present on this occasion. Best Poster Awards were given away on this occasion to the participants in recognition of outstanding poster presentations.
Earlier, a panel discussion on 'balancing energy security, environmental impacts and economic considerations: Indian Perspective' was held in which Dr R R Sonde, Executive Vice President, Research, Technology and Innovation, Thermax Limited; Dr. Anjan Ray, Director, CSIR-Indian Institute of Petroleum (CSIR-IIP), Dehradun; Prof. Avinash Kumar Agarwal, IIT-Kanpur; Dr. R Srikanth, Professor and Head of the Energy and Environment Research Program, National Institute of Advanced Studies (NIAS), Bengaluru; Dr. Rakesh Kumar, Director, CSIR-NEERI took part as panelists.
Dr. Sonde said that India is doing well in energy intensity in terms of GDP. Energy, environment and economy are complex things. He also pointed out that India needs to build an adequate storage facility for solar energy to strengthen its economy.
Dr. Ray emphasised on resource mining. We need to orient research towards controlling over consumption.
Prof. Agarwal advocated for 'energy justice', which seeks to apply justice principles to energy production and systems, energy consumption and energy security.
Dr. Rakesh Kumar stated that any energy source should be rated on its overall environmental impacts.
Dr. Srikanth said that we should look at our own conditions and not follow other countries in the energy sector. We have enough low-cost solutions.
As many as seven technical sessions were held on the concluding day. The topics included 'Alternative Energy Resources', 'Water Pollution and Control', 'Biological Processes and Environmental Applications', 'Environment Sustainability', 'Cleaner Technology & Environment' etc. More than 250 delegates from India and other countries attended the conference.