Shree Bhagwan Mahavir Janmakalyanak Mahostav is celebrating the Mahavir Jayanti today. Due to ongoing situation of lockdown and advisory of Government on account of COVID-19, Shree Bhagwan Mahavir Janmakalyanak Mahostav Samiti-Paschim Nagpur has decided not to organise any programme to follow Government Directives and adhere to social distancing norms and appealed its members to celebrate the same by chanting Navkar Mantra Jaap / doing Samayik from 9 am to 10 am at Home, stated Pavan Khabiya, Convenor of the Samiti.
Every year, Shree Bhagwan Mahavir Janmakalyanak Mahostav, Samiti organises various programs including the food donation to NGOs, Blood Donation, Aayambil Oli, Ahinsa Scooter Rally, Procession, Bhakti Sandhya, Navkar Mantra Jaap, Cultural Program-Mahavir Ek Najre Anek by kids and adults. Since, due to lockdown, no such program will happen and Samiti will contribute the funds to the needy affected by COVID-19.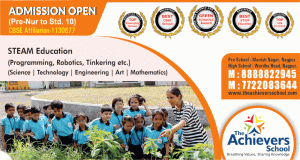 Samiti has thanked all its donors and associated organisations namely Shree Shwetambar Jain Samaj (Paschim)Nagpur, Sumtinath Mahila Mandal, Arihant Mandal, Paschim Nagpur Mahila Mandal, Shashan Sevika Mandal, Jain Sur Sargam Mandal, Jain Saheli Mandal, Arhant Touch, Mahavir International, Jain-15, JITO-Nagpur, BJS-Nagpur Central, Gurubhakt Seva Samiti and other organisations for their continuous support for the cause.
Samiti also thanked Core Committee Memebrs Shri Kantilal Zamad, Shri Nikhil Kusumgar, Shri Vikram Shah, Shri Rajendra Lodha, Shri Praful Jain, Shri Umesh Bhansali, Shri Anand Ostawal, Shri Mahadeoji Singhi, Shri Manakchand Sethia & Shri Piyush Fatehpuria.