Maharashtra State government had already set the price for all the private hospitals treating the COVID-19 positive patients. According to the set price, 80% of bed was said to be controlled and price by the government while 20% of the beds were reserved.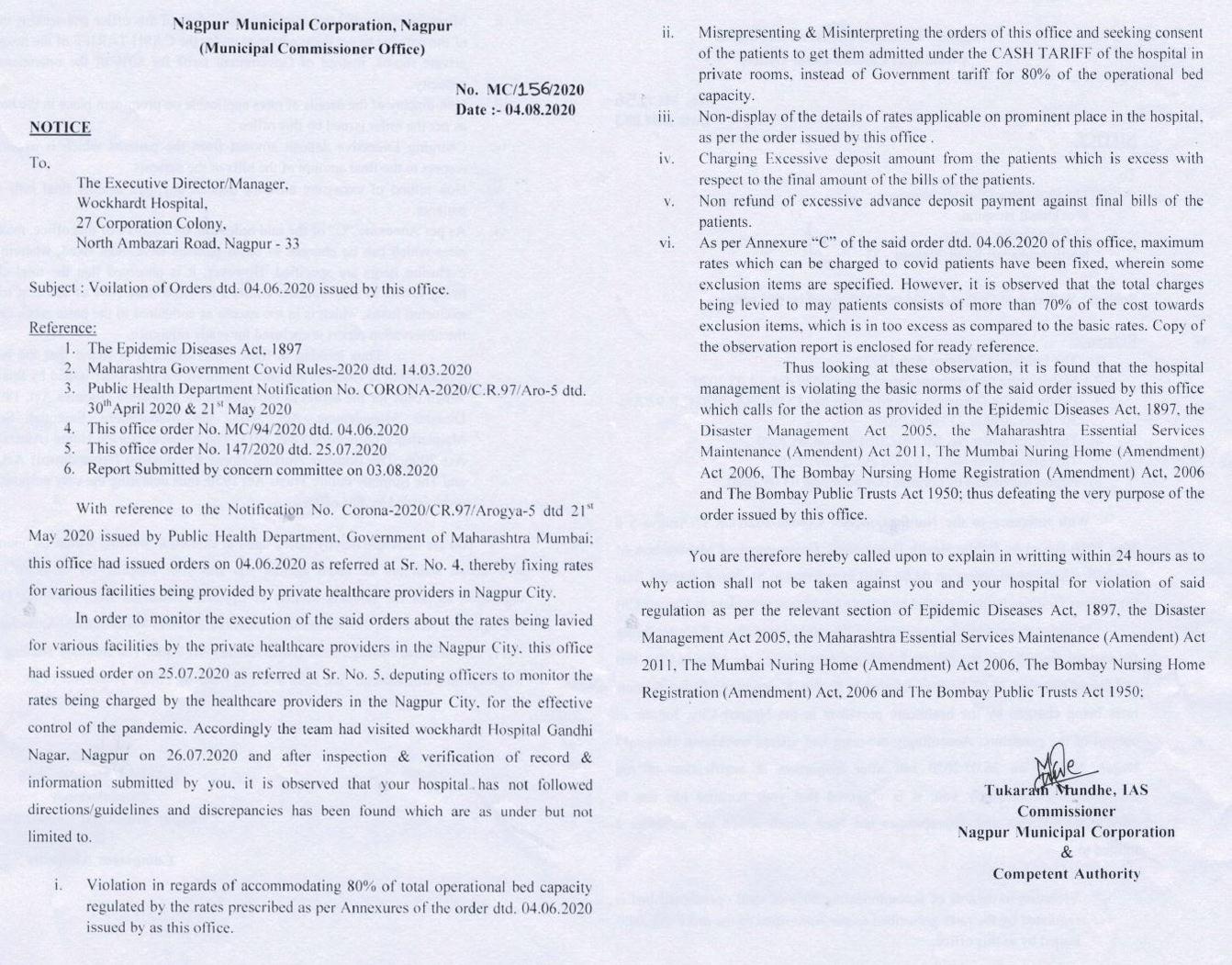 Nagpur's first private COVID-19 dedicated hospital Wockhardt Hospital was found violating the guidelines and demanding extra charges from the patients. The hospital received a notice from Nagpur Municipal Corporation on Tuesday for not following the guidelines of the said price which was set by the government.
A team had visited Wockhardt Hospital Gandhi Nagar. Nagpur on July 26 and after inspection & verification of record & information submitted by the hospital it was found that the hospital has not followed directions/guidelines
Violation in regards of accommodating 80% of total operational bed capacity regulated by the rates prescribed as per Annexures of the order dtd. 04.06.2020 issued by as this office.
Misrepresenting & Misinterpreting the orders of this office and seeking consent of the patients to get them admitted under the CASH TARIFF of the hospital in private rooms instead of Government tariff for 80% of the operational bed capacity.
Non-display of the details of rates applicable on prominent place in the hospital
Charging excessive deposit amount from the patients which is excess with respect to the final amount of the bills of the patients.
Non refund of excessive advance deposit payment against final bills of the patients.
NMC has asked the authorities to provide an explanation regarding their action "You are therefore hereby called upon to explain in writing within 24 hours as to why action shall not be taken against you and your hospital for violation of said regulation as per the relevant section of Epidemic Diseases Act" reads the order.