On the eve of International Women's day, TiE Nagpur had launched TiE Women & Protecting IP Innovation for Women Startups. The event has jointly organized by TiE Nagpur in association with the office of Dy. Controller of Patents and Designs. TiE Women (a TiE Global Initiative) opened up an opportunity for women entrepreneurs to pitch their ventures on a national and global scale.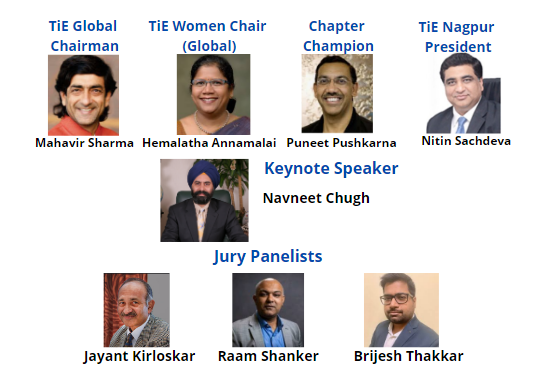 25 women entrepreneurs from Nagpur participated initially, 12 were further shortlisted and 8 could make it to the Chapter finale of this initiative. This investor pitch programme was divided into two phases, the first phase was held at chapter level where each participant went through handholding sessions on topics essential to business. Various knowledge sessions like Business Model Canvas by Vyom Shah of Phronesis Strategies, Marketing by Dipesh Ajmera of Ajmera Tyres, Business plan construction by CA Mayur Zanwar, Teams and Competencies by Ms. Medha Dixit,
Chair – TiE Women, sensing and making sense in ventures by Dr. Rashmi Bansal, Legal Solutions and NDA for Startups by Abhishek Sharma, Insights on Startup pitch deck by Vineet Patni, Angel Investor and Board Advisor.
The 8 finalists are Khushboo Agrawal of Redmontm Trupti Patil from IYIYK, Â Kanika Dewani from Mintree, Dhanashree Ambaselkar from Furry Tales, Leena Dixit from NAtiv. Chefs, Dr. Sonal Dabhekar from OECO, MS. Poonam Gupta of RPC projects and Ms. Reena Gupta of Ezeelo.
Besides this, each entrepreneur was accorded a Charter member mentor. Thought leaders and entrepreneurs like, Ajay Kapoor, Ascent Business Solutions, Dipesh Ajmera, Prashant Godbole, Past President, TiE Nagpur, CA Mayur Zanwar, Rahul Dixit, Past President TiE Nagpur, guided their mentees on fine tuning their pitches and perfecting their presentations.
In Addition to above, from time to time the mentees reached out to President TiE Nagpur, Nitin Sachdeva and received guidance on various aspects including finance, business perspective, and effective communication for the Investor Pith Competition.
A mock pitch presentation for all participants was adjudged by Ghanshyam Ahuja, of Thinkuvate from Singapore and Nagpur Chapter CM.
The Chapter Finale will be held digitally on Thursday, 20 th August from 1800 hrs to 2100 hrs IST. The programme will consist of a keynote address by Navneet Chugh, Managing Partner, Chugh LLP, USA. The pitch decks will be adjudged by Jayant Kirloskar, Founder- JK ConRep, Germany, Mr. Raam Shekhar, Founder – Equitus Engineering, UK, and Mr. Brijesh Thakker, Chief Investing Officer, Chhattisgarh Investment Ltd.
The women entrepreneurs shall get a chance to showcase their products and services on a global platform and maybe catch the eye of an investor to promote their ventures.
Each participant has been allotted slots of 15 minutes to present their pitch and answer jury queries. Nitin Sachdeva – President TiE Nagpur and Managing Director delaPlex has throughout highlighted the need to rethink comfort zones and invest effort in making local enterprises global. The entire project was mentored on a global level by Mahavir Sharma, TiE Global Chairman, Ms. Hemalatha Annamalai, TiE- Women Chair (Global), Dharti Desai, TiE Women Co-Chair (Global) and Mr. Puneet Pushkarna, Chapter Champion.
If travel restrictions are eased, the chapter winner and three runners-up will get a fully-funded trip and boot camp to Empower, Mumbai and Jaipur. India Partner is Empower, Initiated by Zone Startups. The winner of the TiE Nagpur chapter winner will get an opportunity to fully paid trip to Dubai* and compete at TiE Global women pitch competition and winning prize money is $100,000 equity free fund.
Medha Dixit- Chair, TiE Women Nagpur and DGM Training at National Cancer Institute Nagpur- & CA Swati Thakkar – Mentor Coordinator, TiE Women Nagpur, Treasurer and Co-Founder & CEO – GRESPL and Nidhi Bawashe, ED TiE Nagpur, coordinated the effort to bring the project to fruition. To receive event joining link, contact Nidhi Bawashe, ED – TiE Nagpur at +91-9595568009