Dr. Rizwan Ahmed received the "Digital Transformation Leader 2020" award during "Digital Transformation Virtual Summit and Leaders Awards 2020"; during a function hosted by TekQ Global CIO Forum on October 10.
Dr Rizwan is recognized as a winner amongst a few select Global CIOs and CTOs from across the world. The winners were announced in the presence of more than 400+ Top CIOs, CTOs, CISOs, and other senior IT professionals across the globe from various industries.
After winning this award Dr. Rizwan said, "Digital transformation is taking place in almost every industry, disrupting and making us rethink our ways of working in the digital age. Digital transformation enables organizations to better compete in an economic landscape that's constantly changing as technology evolves. Being recognized as one of the few Digital Transformation Leaders and Technologist is truly a great honor and humbling recognition given by the esteemed Jury members. I take this opportunity to thank all Jury Members."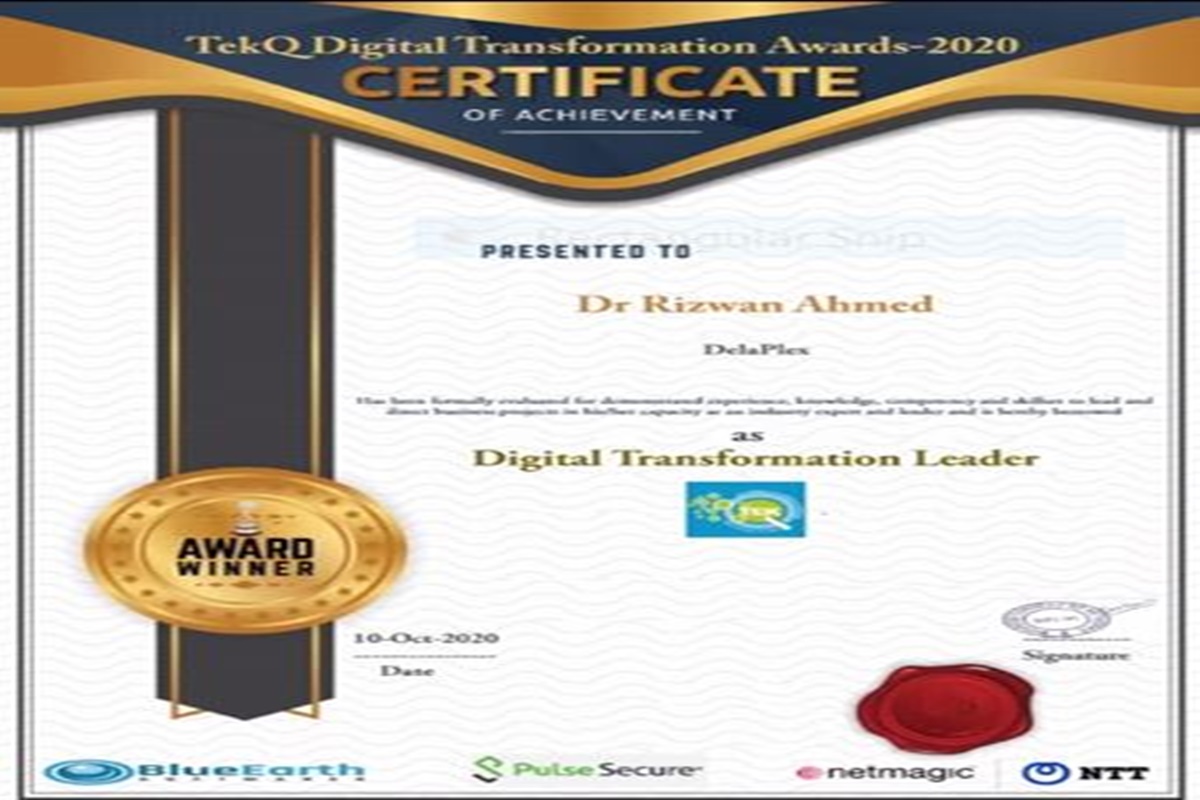 Dr. Rizwan Ahmed is the Chief Technology Officer (CTO) at delaPlex which is a Global Digital Engineering and IT Services company. He has close to 2 decades of professional experience in IT industry in various roles as innovative, hands-on technology executive with a proven track record of leading the design, development & program/project management of high technology projects and solutions, while continuously improving the processes and procedures during Digital Transformation projects for Global clients. He also works as an "Independent Consultant and Mobile Forensic Investigator" for various Private, Government, and Law Enforcement Agencies in India and abroad.
He is also one of the first recipients of Ph.D. in the field of mobile forensics in India. Dr. Rizwan has received many awards and accolades in past with most prominent being Microsoft's "IT Technology Hero", "Marquis Who's Who in the World® 2016", ITNext Magazine's "NEXT100 Future CIO 2017", "Most Innovative 100 CIOs/CTOs of India 2018", "Smart Innovator Award 2019" and "CIO of The Year 2019", "Legendary SuperCTO Award 2020" and "Super Hero Award 2020", "ACM's Distinguished Speaker", Multiple Best Research Paper Awards and many others.