Team of BIS (Bureau of Indian Standards) conducted a raid on various shops on Thursday. During the raid, it was found out by the team that the firm was found engaged in misuse of BIS Certification mark popularly known as ISI Mark on the product 'Packaged Drinking Water (PDW)' which comes under the mandatory certification by the Ministry of Health & Family Welfare, Government of India.
It was found out that manufacturing 500 ml, 1 litre, in PET bottles with BIS certification mark without having a valid license to the said premises/manufacturing facilities.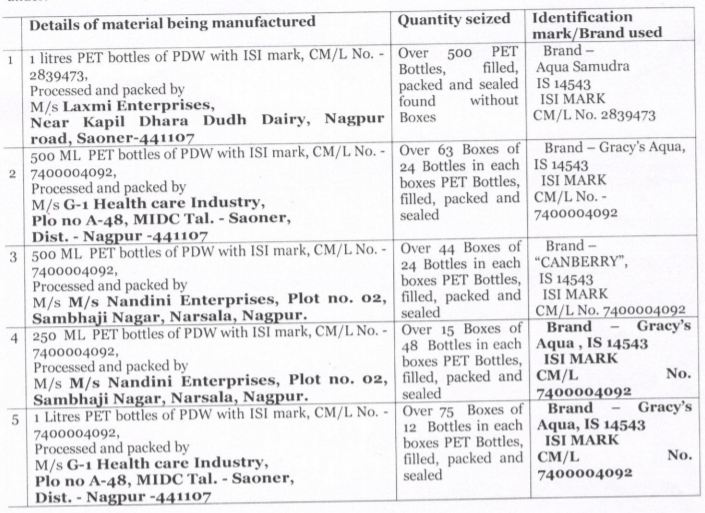 Over 500 PET Bottles, filled, packed, and sealed found without box were seized from Laxmi Enterprises, 63 boxes of 24 bottles each box and 75 boxes of 12 bottles in each box were seized from the Health care Industry and 44 boxes of 24 bottles each and 15 boxes of 48 bottles each were seized during the raid.
The BIS team has appealed public particularly 1 litre, 500 ml, and 250 ml PET PDW bottles, users to not use/consume PDW bottles with above-indicated brands and license no, as these brands are spuriously manufactured without following BIS norms and relevant Indian Standards.
Further appropriate legal actions as per the provisions of BIS Act 2016 have been initiated against Nandini Enterprises, Health Care Industry, Saoner, and Laxmi Enterprises.
BIS has appealed to all consumers to share information about misuse of ISI marks to BIS Nagpur Branch office.
It has to be noted that the Government of India on consideration of public health and safety, security, infrastructure requirements and mass consumption has enforced mandatory certification on various products through orders issued from time to time under various Acts. To ensure enhanced consumer safety and compliance to statutory provisions, some products like gas cylinders, regulators, and valves, BIS certification scheme requires each lot or batch to be inspected by BIS certification offers before releasing of the product.