Bharatiya Janata Party has released names of candidates for the upcoming biennial elections in Uttar Pradesh Legislative Council & Maharashtra Legislative Council.
Maharashtra had earlier issued the dates of the biennial election to the Maharashtra State Legislative which will be held on December 1. The last date for making nominations is November 12 while the last date for withdrawal of candidature is November 17.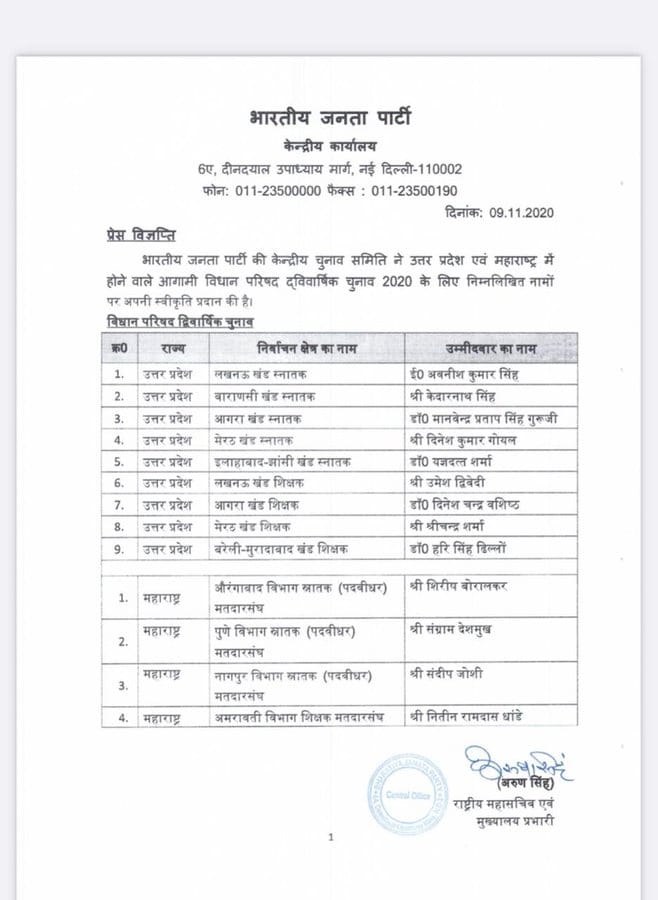 From Nagpur Mayor Sandip Joshi has been selected as the candidate for this election by BJP.
The district collector had already said that the Covid-19 patients will also be able to cast their vote on the election of Nagpur division Graduates constituency of the legislative council. In the last one hour of voting, they will be able to exercise their franchise. The facility to cast votes from postal ballot paper will be given to the positive patients who are admitted to the hospital. The postal ballot paper facility will be provided to elderly voters above 80 years of age. Only two people will be admitted at the time of nomination.
He said that 139 polling booths will be made in the district for the election. The election will be conducted like an assembly election. Five people will be able to participate in the campaign. A maximum of five vehicles will have to be used. Voters will have to tell their first preference otherwise their vote will be invalid. Videography will be done in every polling station.