After 10 months Schools in city limits were allowed to reopen on January 4 with all the precautions and following guidelines that were issued by NMC.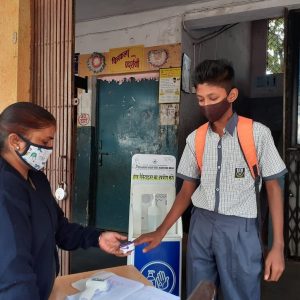 The school education and sports department had directed to reopen the schools and junior colleges from class 9 to class 12 from January 4.
In this regards NMC has made it mandatory to follow the guidelines / SOPs issued on November 10, 2020, by the Department of School Education and Sports regarding the commencement of schools.
Around 593 schools were opened on the first day while many schools have still deferred reopening the schools amid the Covronavirus threat in the city.
Authorities are vigilant on taking necessary steps that have been assigned by NMC to keep the students safe and encourage them to follow the new normal.
The school administration was asked to be vigilant about the availability of essential items. The Seating arrangements in the classroom as well as in the staffroom are being done in accordance with the rules of physical distance.
Teachers and staff who submitted the RTPCR test for Covid-19 were allowed inside the premisses. Students were checked with thermal scanning guns, while other equipment like thermometers, pulse oximeters, disinfectant soaps, are being arranged by the school authorities.