It has been a year since that civic administration was promised that the healthcare system of Nagpur should be much more promising and is ready to fight against all the odds, and the administration also offered to control the situation and arrange all the facilities for the needy. However, at present, it seems nowhere to be true. As everyday Nagpur makes new records with daily cases and daily deaths.
With more than 70,000 active cases and 113 highest single-day death Nagpur is on number third in the list of the worst affected cities in Maharashtra. Hospitals are screaming for more beds while many positive patients have to wait in queue for their turn.
But whenever the country faced problems people came forward and gave a helping hand. Here are such good Samaritans who have been helping Nagpur by providing verified information on the availability of medicines, healthcare facilities, oxygen cylinders, ambulance, etc. This small help done by them could be considered as the act of God in the eyes of the needy.
From many vigilant COVID volunteers, The Live Nagpur met with one of the members who compiled complete data of the most important information which is providing help to the affected ones.
Sarvesh Kashelikar a Covid Volunteer compiled a list of healthcare data http://covidhelpnagpur.in/ in which one can get all the important numbers from meal providers to an ambulance.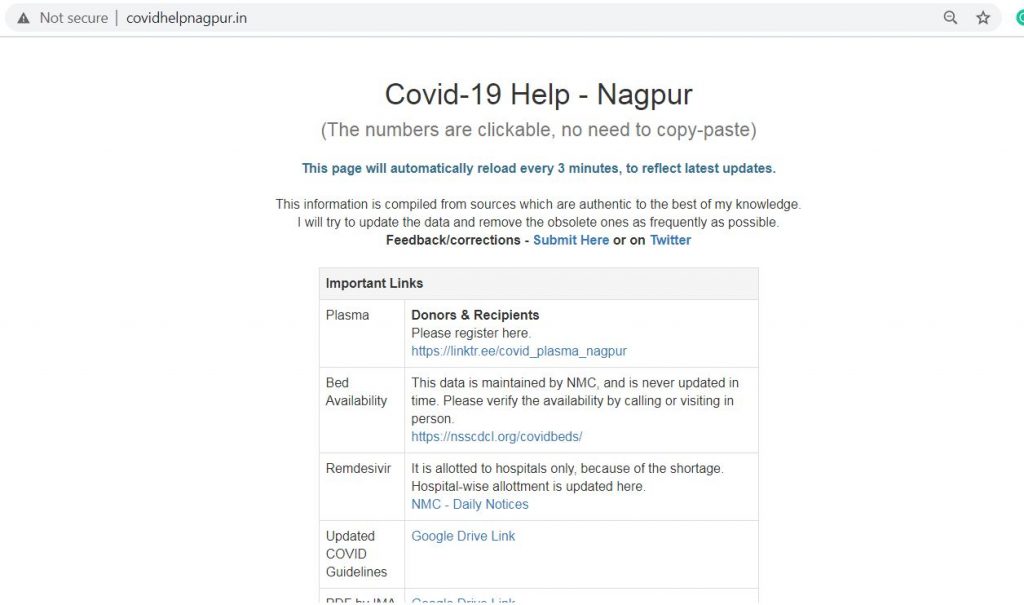 "I had thought of compiling this data when the cases first peaked around August last year. But the situation was under control then and the idea got sidelined. This time it spiked very quickly and people were not getting beds, oxygen" Sarvesh said.
"On April 18, I lost my uncle who was very close to me and the reason behind his death was delayed treatment, we had to roam around the city, personally visiting the hospitals for bed. That was when I first came across this hole in our system. NMC had this portal of bed availability, but it was running way behind time" he informed.
"After that loss I was in shock for a few hours. But it triggered me and I decided to get working and build this bridge between people and facilities. By Monday afternoon, I uploaded all the verified data that I had and asked Sukhada Chaudhary one of the COVID volunteer to post it on twitter. It was because of her that we reached 15 thousand users in first 12 hours" he informed.
"I got a call from Mandar Pandhare asking to form a team for verifying the information and fact checking. People are so willing to help that they join our group with just one request in the stories. Humanity prevails".
"Initially, my only aim was to list all the services at one place. But with the help of this team, we are now able to help people in case of emergencies" he added.
Sarvesh said that "Right now, we have 60 + volunteers, including a few on ground who physically go and check the availability at the hospital. From ventilator beds to 'arranging' remdesivir (even if it being black market) we keep getting all kinds of requests. We even realised that some facilities are just not for common man, only a privileged few with "contacts" are lucky enough to avail those facilities".
Acknowledging the efforts of all the COVID volunteers Saravesh said that "Even though right now there is no system to provide realtime availability of beds, our amazing volunteers manage to pull it off. The beds are still not enough for the active patients, but we try our best to help the critical ones".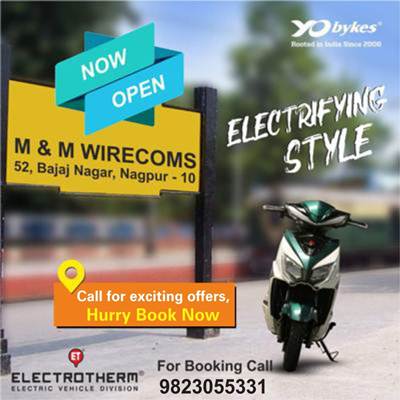 In just 3 days of time the website had 70 thousand visits which shows how people are in a desperate need of help.
We are trying to make it even more helpful for users by providing verified numbers and data
"Soon, people will be able to put their emergency requests on the website itself and we have formed teams by the categories of sevices, who will get in contact with the patients and help them out" he added.
"Apart from the emergencies, debunking the myths and misinformation is a big concern. From 8-month old forwards to online fraudsters, we have come across everything in just 3 days. We also come to know about the unfortunate deaths of people whom we could not help which is devastating. But we cannot get bogged down by that, and we keep trying our best in every possible way. We all keep sending warm wishes to each other at the end of the day which keeps us going" sarvesh informed.
I would like to thank Mandar Pandhare, Mohsin Khan, Sharmishtha Hardas, Yash Khandelwal, Priyal Bargi, Prerna Chandak, Rujuta Deshpande, Vrunda Nimje, Mugdha Oak, Simran Dhameja, Shilpak Toye and all the volunteers who have been working tirelessly. Without them this wouldn't have been possible.
"We all are in this together and as we all know how the city needs help we are providing all possible help via social media as no one has forced us into doing this, we are all doing this by ourselves for the good, for the people as this is the least we can do to help the health workers who are working endlessly for last one year" Sarvesh said.
Speaking on the problems city had to face due to lack of beds and other healthcare facility sarvesh added "we have to accept the fact that our priorities as a country are totally misplaced. We had one year to prepare for this, to uplift our healthcare, but we have failed at it miserably. As someone on twitter very rightly said, 'The system has not COLLAPSED. It was always like this. It has been EXPOSED'.
Lets hope we make the situation better with each day. Lets hope we all get immune to this virus as soon as possible.