Strong wind accompanying showers in the afternoon resulted in several roadside trees uprooted. The trees which fell on power supply lines resulted in power failure in some areas of the city.
About 8,500 consumers and shop owners faced power cut following rains. They were mainly from Trimurti Nagar, Gopal Nagar, Telecom Nagar, Jayprakash Nagar etc.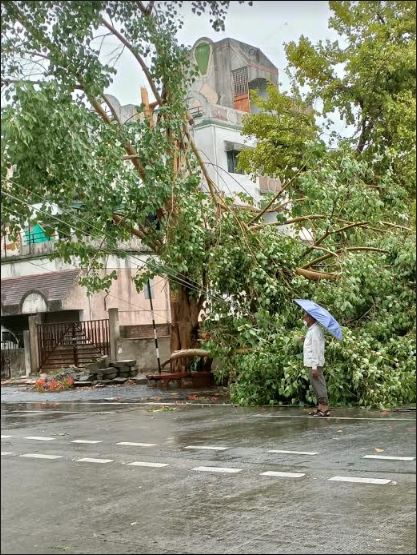 Staff of MSEDCL immediately moved tol rfestore power supply in molst of the areas within a few hours. The power supply in Gayatri Nagar, Jayprakash Nagar and adjoining areas was restored by the evening.
Additional Executive Engiineer of Trimurti Nagar Sub-division Ramesh Nagdevte, Assistant Engineer Makrand Fadnavis, Ratnadip Bagde, Rahul Lalke, operator Nikam and other staff worked for restoring the power supply.
Similar situation was reported from Navnirman Society and Ekatmata Nagar, Ravi Nagar Government Quarters, where power supply was affected as branches of trees fell on electric cable. Civil Lines Sub-Division Additional Executive Engineer Ajay Kolte led the team and restored power supply by 4 pm. About 350 consumers were affected due to the gusty wind and rains.
The pre-monsoon showers and strong wind caused damage in Butibori, Nagardhan, Nerla, Ajni, Manpur, Bhojapur areas. Staff from Butibori and Mouda are working on war footing to restore power supply in Nagardhan 11 poles of 11 KV cable fell due to strong wind and tree branches falling on wires, informs a press note released by MSEDCL.