With the onset of monsoon Maiz Corn gets the first preference by the people, particularly youth. The season has begun, but the corn sellers are in deep trouble. Restrictions due to Covid 19 pandemic, increasing cost of transportation and the high price of raw corn affected their business. The business usually flourish during this season. They are affected for the consecutive two seasons. The Live Nagpur had a brief discussion with them.
The second COVID wave had a wavery impact on the nation. The economy was again affected, small scale businesses were again shut due to the highly infectious COVID variant. This time the uncontrollable COVID-related deaths were the major concern for the administration. Everyone was struggling to support their families and keep them safe from the virus.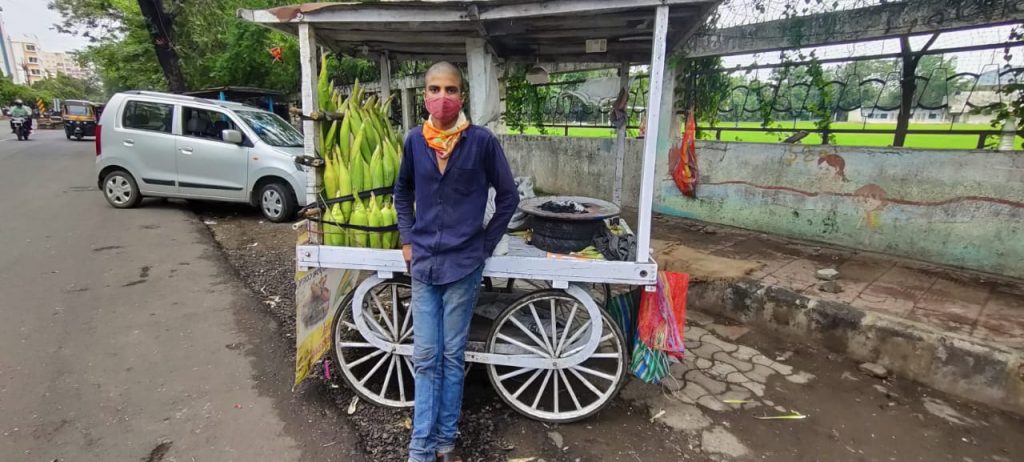 But the street vendors whose livelihood only depends on selling items had the worst impact on their business. On April 14, 2021, another lockdown was imposed in Maharashtra state to control the rapid spread of the virus which took a heavy toll on these small scale business and street vendors as they were unable to recover from the first nationwide lockdown imposed last year.
"With little to no resources and money we had to manage our expenses in order to survive", said Ramesh Patel a B.com second-year student from Dhanwate College, who sells maize corns (Bhutta) on the street with his father near VNIT compound, to meet days needs.
Ramesh informed that "Since we were allowed to reopen we have to work hard but our earnings have come down. We struggle to earn to compensate our expenses. Another misery to our situation is the timing allotted to run the business. As per the instructions we are allowed to operate till 8 pm. Our peak time of business would usually start after 8 pm as the people with their friends visit the stalls late in the evening. The time restriction leaves huge impact on our business".
"Another major problem is that people are not willing to shell out money as for them even Rs 30 for a corn seems a big expense. We have kept the price minimum, even when we buy the stock at higher price. With the hike in petrol prices we do not think about profit but on earning just to survive" he added.
The happiness which we used to see earlier has just faded away. Every stall in empty and the stall owners are struggling to attract customers. If restaurants could be permitted to function till 11 pm then why can't we? said Ram Singh one of the corn stall owners. "We hardly make Rs 500-800 a day now and with such earning my education is difficult to be pursued. I do not have money to buy a smart phone as classes are now being held online. I miss my classes almost every day" Ramesh added.