The 125th Anniversary of Mure Memorial Hospital, a prime health facility based in Nagpur, will be held on June 26. The institution has been serving the social and economically weaker sections as a mission. The long-cherished dream of its founder Dr Agnes E Henderson is being fulfilled gradually by those who followed as its directors.
The MMH 125th Anniversary program will be held on virtual platform on 26th June 2021 at 12 Noon. The theme of the program is "Importance of serving in love by hospital and professional health workers during pandemic. Union Ministry of Road Transport and Highways Nitin Gadkari will be the Chief Guest, Pro- Chancellor of Datta Meghe Institute of Medical Sciences (Wardha) Dr. Ved Prakash Mishra, Former Rotary Governor Dr. Sundar Rajan and retired IAS Shri. Sanjay Deshmukh along with Nagpur-West MLA Shri. Vikas Thakre, City Mayor Shri. Dayashankar Tiwari, General Secretary Church of North India, New Delhi, Dr. Dennis Lall will be the guests of honour. The MMH Annual Report will be released by the hands of dignitaries.
The best staff awards will be given to the selected staff in various categories. Chairman MMH Bishop Andrew Rathod from CNI Nagpur, Director, Vilas Shende Board Member, Aradhna Upadhyay will also be present on this occasion.
History: The history of the hospital itself speaks about the noble cause for which it has been working tirelessly.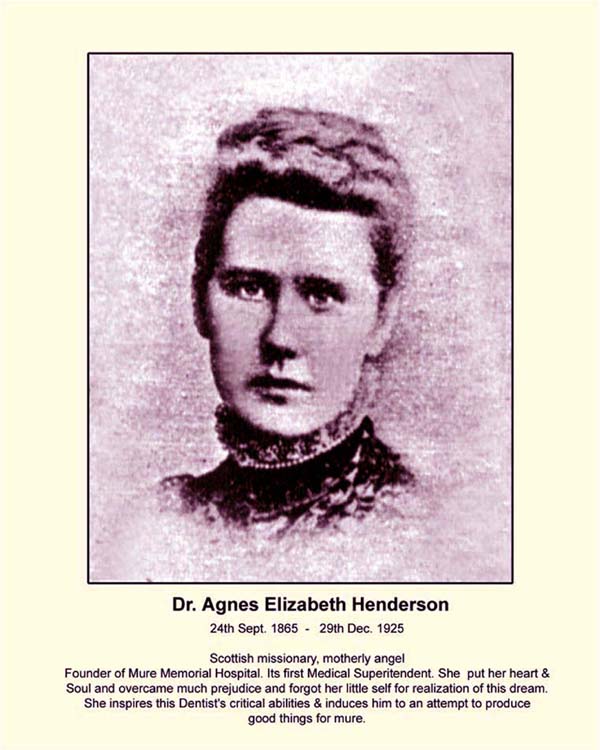 Dr. Agnes E. Henderson was born on 24th September 1865 to Sir William Henderson and Mrs. Elizabeth Henderson in Aberdeen, Scotland. She was founder of Mure Memorial Hospital (MMH), Nagpur which is continually serving people of Central India since last 125 years.
Dr. Agnes came to India as a Medical Missionary in 1891 as per the wish of her mother. She had spent six months in Mumbai to learn Marathi language so that she could communicate well with the local people and understand their life. She started one bed clinic in Mahal area in Nagpur and later established 24 bed maternity Hospital in the present campus at Sitabuldi on 26 th June 1896. As the hospital was constructed through generous donation of Mure family she named the hospital as "Mure Memorial Hospital" (MMH). She worked tirelessly when Nagpur and surrounding areas were affected by plague epidemic. Her motto of service was to "Serve in Love" for the glory of God.
The institution has grown as a 100 bed multi-specialty hospital having departments of Medicine, General Surgery, Orthopaedics, ENT, Ophthalmology, Gynaecology, Paediatric, Oncology, Radiology, Pathology and Physiotherapy. We have 24 hours Pharmacy, ICCU and Ambulance Services available with us, Vilas Shende, Director of MMH stated.
MMH is involved in many community based primary health care projects like Mobile Medical Unit working in 48 remote villages of Nagpur district, regular health check-up and awareness camps are conducted in both rural and urban areas. Mother and Child care programmes for slum dwellers in Nagpur city, Old Age Home, Community Care Centre for HIV/AIDS affected families, Youth empowerment training for physically challenged youth, English e-teach learning in village schools and life skill education to children born deaf and blind. Free Cleft Lip and Palate Surgeries camps are being conducted since 2011 in January. We are running School since 1924 conducting courses in General Nursing and Midwifery. Last year, April 2020- March 2021 the hospital was able to serve approximately 47000 patients even during the Corona pandemic.
COVID-19 Pandemic: MMH was instrumental in providing community health services to migrant workers, front line workers, slum dwellers and villagers during lockdown and post-lockdown periods from March 2020 to January 2021. As a non-Covid hospital till February 2021 the hospital was continuously treating patients suffering from other diseases. From March 2021 we started 47 beds Covid hospital where we were able to treat more than 250 patients with limited resources, Dr Shende stated.
Future of MMH: Talking about the future development plans Shende stated that we will continue to serve the people in love as per motto given by our founder Dr. Agnes Henderson and will make committed efforts to achieve our mission, goal and vision. We are preparing ourselves to keep at least 150 beds ready with oxygen supply so that we can face the challenges of third wave of covid-19 along with needed equipment's in ICU and oxygen generation plant. We are looking forward to set up 500 bedded Super-specialty hospital , with latest technology and holistic health center in the most centrally located campus in Nagpur city. This will come up in phases of 250 bed hospital plus health club, naturopathy center, community care center for HIV/AIDS, Post covid care center, B.Sc. Nursing College, Allied Health Professionals Training Academy, health museum, health spa, Yoga center, etc.
A basic community health, development and research center in Katol block of Nagpur district and Saunsar block, Chindwara district of Madhya Pradesh to serve the surrounding 70-80 villages is also part of our master plan.
To mark the 125th anniversary we have planned following special health check-up camps for patients treated for COVID-19, pneumonia in our hospital. The services are available from 14/06/2021 to 25/06/2021 – Mondays to Fridays – 10 am to 4 pm.
1. Free OPD consultations for Post covid OPD, Orthopedics, Gynecology, Ophthalmology, physiotherapy and Dental surgery. Minimum of 20% discount on investigations, surgeries and other procedures as decided by the treating doctor.
2. For general public, the following services is proposed from 28/06/2021 to 02/07/2021 – 10 am to 4 pm — Free OPD consultations for Orthopaedics, Physiotherapy, Gynaecology, Ophthalmology, Paediatrics and Dental surgery. Minimum of 20% discount on investigations, surgeries and other procedures as decided by the treating doctor.
3. Community outreach camps are also planned – in slums of Nagpur city and village in Nagpur district.
4. A blood donation camp by Mure Memorial Hospital staff, Nursing students, board members and associates will be held in the month of July 2021.
5. Special webinars will be held on different health and medical related topics in the coming months for the health professionals and students of medical fraternity.
6. The "MMH 125 th Anniversary Souvenir 2021" will be released in the month of August 2021. 7. The 5th Dr. Agnes Henderson Memorial Award and Oration will be held in September 2021, during which prominent person from medical fraternity will be felicitated.