Metro services on all the four directions of the city would be operational soon. Execution of Metro project has been an extremely challenging task at many locations. More such challenges await us some such challenges are emotional in nature. The more people travel in Metro train, the more we would be closer to our goal, said Maha Metro MD Dr Brijesh Dixit, here on Friday. He was addressing the gathering at the Maha Metro Nagpur's 7th Foundation day.
Dr Dixit further said that Maha Metro has crossed the ridership figure of 60,000. After operations on Reach-II and Reach-IV get started, this figure would cross 1 lakh mark. "We have to achieve ridership target of 3 lakh'' Dr Dixit further said. It is not easy to complete project of such dimensions while maintaining quality of work. This has been possible with the help of team work, he further said.
He credited the citizens of Nagpur for their continued support to the project, who have been extremely supportive of the project despite some hardships at some level, he said. He also credited the family members of Maha Metro employees and officials for their co-operation. Dr Dixit also mentioned about the suggestions given by different speakers in their speeches and urged the guests to be Maha Metro's Brand Ambassador.
Municipal Commissioner, Nagpur Shri Radhakrishnan B, businessman Shri Vilas Kale, Architect Shri Ashok Mokha, cardiologist Dr Prashant Jagtap, senior journalist Miss Sarita Kaushik, President of VED Council Shri Shiv Kumar Rao, Secretary of Tax Payers' Association Shri Tejinder Singh Renu, ex-Director of NEERI Shri Satish Wate spoke on the occasion of Maha Metro's 7th Foundation Day.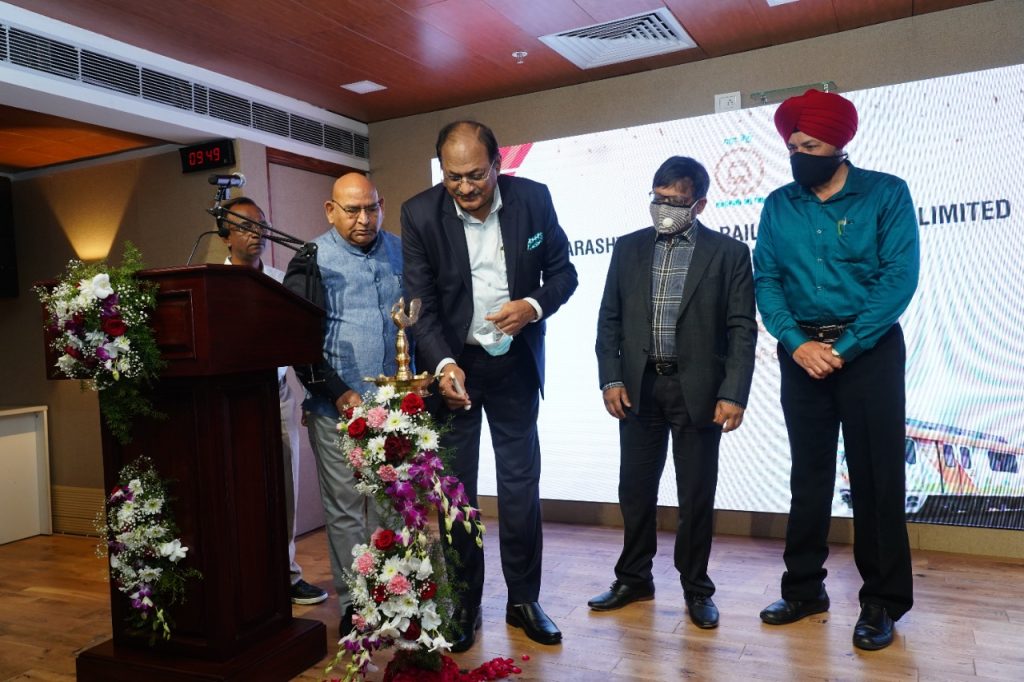 •Maha Metro's Journey:
Use of Public Transport Essential for Environment Protection: Municipal Commissioner Shri Radhakrishnan B.
Nagpur ranks fourth in the list of developed cities in Maharashtra. However it's first in respect of Metro and its matter of pride for all of us, saod Municipal Commissioner, Nagpur Shri Radhakrishnan B. People should use public transport not just for environment protection but also for safe transport. While vehicular pollution is on the rise all along, conserving city's health is essential and everyone's responsibility, he added.
• Nagpur's Identity has changed: Shri Vilas Kale
In his address, noted businessman Shri Vilas Kale said that the city's identity has changed in the span of seven years, since the project was launched. He thanked Maha Metro MD Dr Brijesh Dixit for his exemplary leadership. The city was earlier known for oranges, cotton and even good people, but now the city is identified with the Metro Services which are of international standard. This has also changed the lifestyle of the people here, he concluded.
• Maha Metro Project led to overall development: Architect Shri Ashok Mokha
The Metro project has speeded the overall development of Nagpur. It has also played a major role in providing international level transport facilities but also changed the city's identity. While addressing problems related to common man, Maha Metro has also refurbished the tourist places of the city, Shri Mokha said. He suggested that the heritage government offices in Nagpur like Commissionerate and Collectorate could be refurbished.
• Health and Personal Security Maha Metro's Mantra: Dr Prashant Jagtap
Mazi Metro is my metro in real terms, said noted cardiologist Dr Prashant Jagtap. It has ensured Health and Personal Security of citizens of Nagpur. In medical terms, hypertension could be controlled is one choses to travel by Metro train, he said. Use of Metro train services could ensure healthy life and one need not go to doctor, Dr Jagtap said.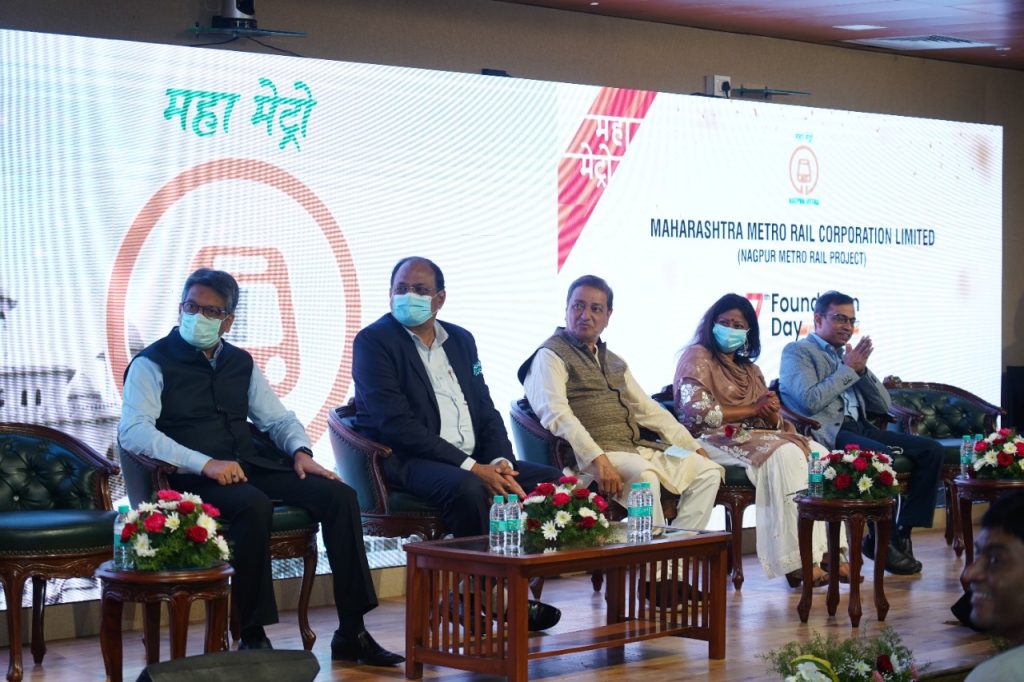 • People are emotionally involved with Metro : Miss Sarita Kaushik
Greeting Maha Metro staff on the occasion of Foundation Day, Senior journalist Miss Sarita Kaushik said over the years, people are getting emotionally involved with Metro. Miss Kaushik has scripted a book on Metro – `Better Than The Dream – A People's Story'. Speaking about the book, she said it covers people from cross-section of society, who have been involved with it.
• Maha Metro has scripted Pace of Development: Shri Shiv Kumar Rao
The chairman of VED Council Shri Shiv Kumar Rao, the city has witnessed a phase of transition towards development in the seven years of period. Maha Metro has fulfilled transportation needs of the city. The seven years of Maha Metro journey has catapulted Maha Metro among the cities with global appeal. The transportation services in MIHAN was a major issue, however Maha Metro has satisfactorily addressed the issue in specific time frame and while maintaining the quality, Mr Rao said.
• Overall development possible because of Metro: Shri Tejinder Singh Renu
Speaking on the occasion, the secretary of Tax Payers' Association Shri Tejinder Singh Renu said that Maha Metro has benefitted all sections of the society. The citizens of Nagpur have co-operated in executing the project right since its beginning, he said. It is essential to understand Maha Metro in a wider frame, as it has taken Nagpur to new heights. Metro provides safe transportation services to all, especially women and children, Shir Renu said.
• To have Metro in Nagpur, is a matter of pride: Shri Satish Wate
Former director NEERI Shri Satish Wate said that it is matter of great pride that Nagpur has metro services. "Earlier, during my visit to Delhi I would regret the absence of Metro services in Nagpur. However now I have a sense of pride as Maha Metro services have been operational in Nagpur,'' he said. Even the people of Delhi now acknowledge the services provided by Nagpur Metro and this has been possible because of the excellent management of Dr Brijesh Dixit.
The cycle mayor of Nagpur and noted cycle enthusiast Dr Amit Samarth, Shri Chaitanya Shingru, Miss Madhura Borde, Shri Shankar Shivhare, Shri Arun Singh, Shri Mohammad Akram, Shri Vivek Gargi also spoke on the occasion. These speakers dwelt on the seven years of Maha Metro's journey in Nagpur. The Director (Project) Shri Mahesh Kumar delivered the introductory address. The Executive Director (Admin) Shri Anil Kokate proposed vote of thanks. Smt Nilima Harode conducted the proceedings.