The novel concept of 'Vrundavan' a township for peaceful and comfortable living for senior citizens has gained momentum, after a gap of two years, due to Covid-19 pandemic.
The project, a brainchild of Vinod Gaan is different from the traditional Old Age Homes. A large number of seniors have problems, even when they are financially stable. The issues confronting them are related to loneliness, security, health issues etc. Gaan, himself a senior citizen realised these issues and planned a township, which will have all the facilities from entertainment to health care, gymnaecium to sports facilities, nursing on a regular basis to doctors on call, gardening and other agricultural facilities, regular common dining facilities to nutritional care along with comfortable living place and round the clock security services. A library will also be developed in the township, which will have living facility for about 100 persons or couples.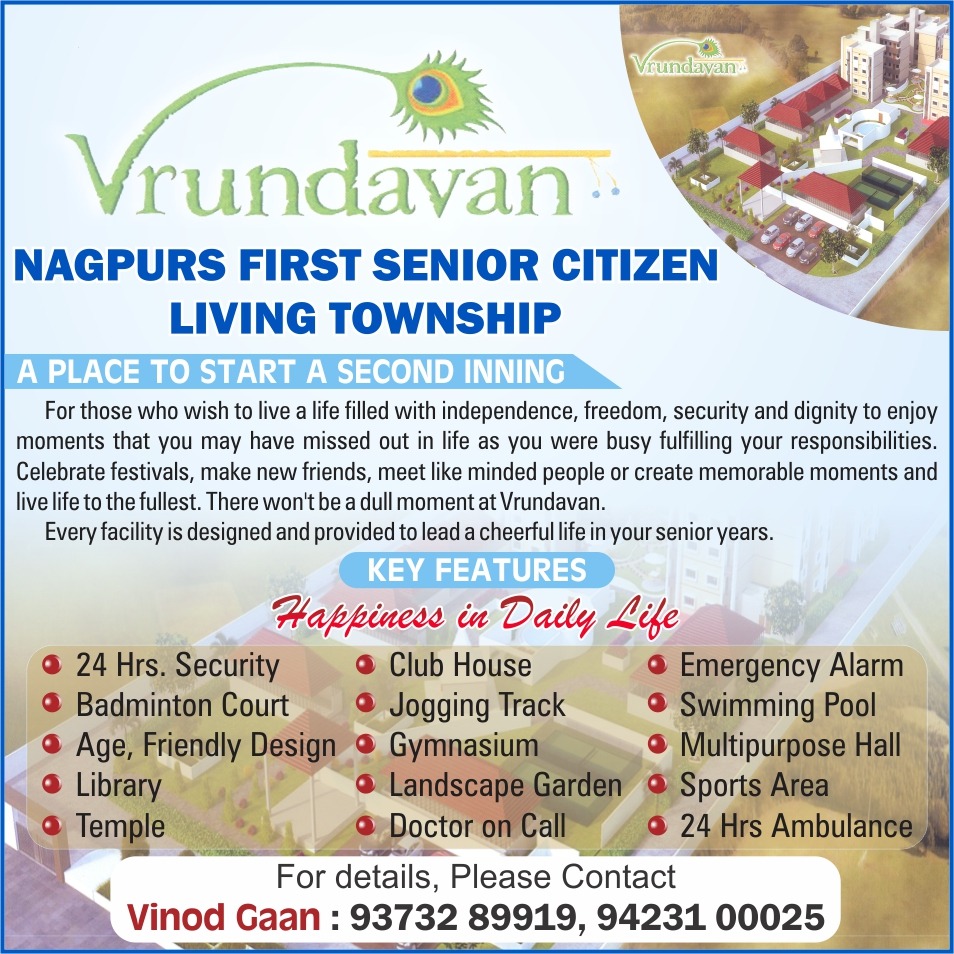 Vinod Gaan, a Chemical Engineer from Laxminarayan Institute of Technology, Nagpur is still active with his venture Rite Water Solutions, providing solutions for the purification of water for domestic, industrial, and rural communities. The business is looked after by his son Abhijit, as he has been freed from major responsibilities.
Gaan stated that Vrundavan is a non-profit venture and will be run by the persons living there. He is only a service provider. After a gap of two years of the Corona pandemic, he started working on the project again. So far about 30 people have joined the group. The habitat for the senior citizens would be within a radius of 25 to 30 Kms from Nagpur city. He is being supported by Architect Uday Gadkari and Engineer Suresh Khedkar. The township plan is ready and can be executed after a few more senior citizens join in.
Explaining further Gaan stated that the sports zone will have a badminton court, table tennis room, card room, swimming pool, and jogging track. Other facilities include a multipurpose hall, temple etc. For health care a permanent ambulance will be stationed, besides nursing services and doctors on call, if required. Gaan also plans to have health records of all in the township and reminders for timely intake of medicines will be given by the nurses.
Similar townships have been developed in Mumbai and Pune in Maharashtra. But they are commercial ones and developed to earn profit. Vrundavan is a non-profit project and is being developed for community living for senior citizens.
The facility is being developed to have a cheerful second inning with the company of persons in the same age group. Gaan also plans to have an association with educational institutions, where the seniors can occasionally visit and guide the younger generations. The premises will be hassle-free to facilitate the movement of seniors.
Vinod Gaan can be contacted by phone – 93732 89919; 94231 00025; e-mail – vinodgaan@gmail.com.