International Society for Krishna Consciousness (ISKCON) Nagpur Kendra Sri Sri Radha Gopinath Temple took out Rath Yatra on the lines of Jagannath Puri in the presence of Srila Loknath Swami Maharaj. A large number of devotees participated in the Rath Yatra. It is believed that whoever participates in the Rath Yatra of Lord Jagannath and pulls his chariot with his own hands receives immense blessings from the Lord.
Nagpur was immersed in the color of devotion to Lord Jagannath on Tuesday. The journey started from Mayo Hospital sq. at 12 noon. Before this, as per the tradition Lord Jagannath was worshiped. Lord Jagannath's is elder brother and sister were also installed on the chariot.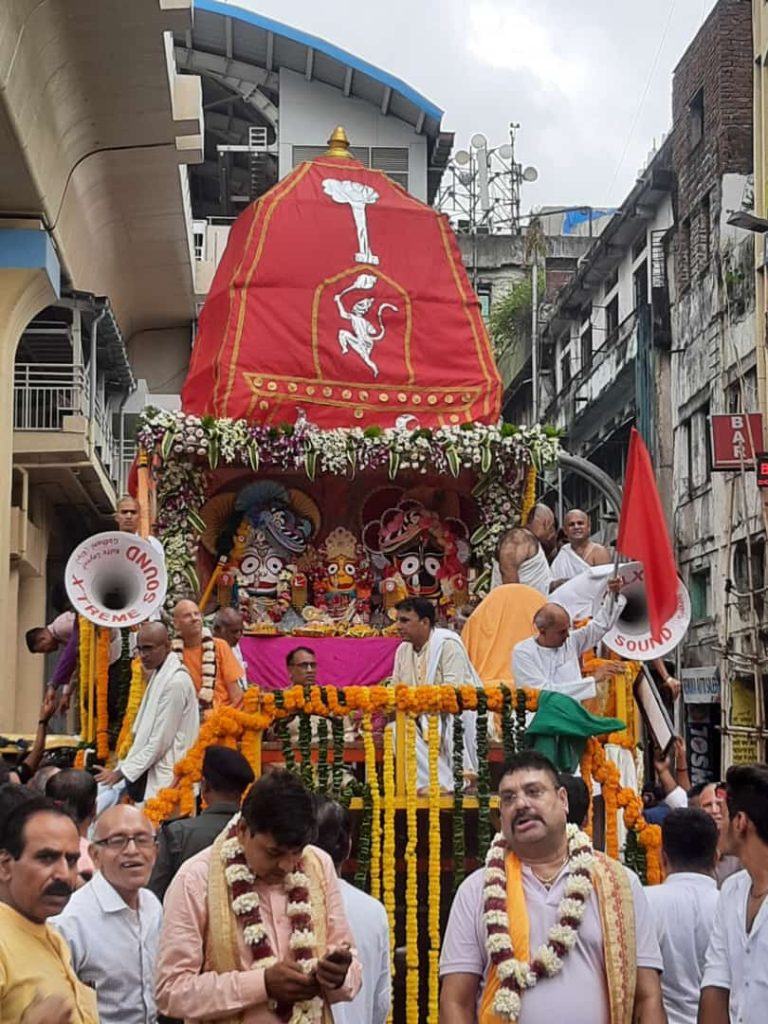 Shri Loknath Swami Maharaj worshiped Lord Jagannath and an Arti was performed. Shri Sundar Chaitanya Swami Maharaj from Mauritius and Sri Krishna Chaitanya Swami Maharaj from America also offered their prayers to Lord Jagannath. Flowers and prasad were offered. Shankh was played to praise lord. After this, the lord was offered with Chappan Bhog and then ISKCON Nagpur Temple President Sachidanand Prabhu and Hari Kirtan Prabhu guided the devotees.
After this, the Rath Yatra started all the dignitaries also accompanied it. The yatra was taken from Agrasen Sq, Daga Hospital, Tanga Stand, Gandhi Putla Chowk, Badkas Chowk, Gandhi Gate, Thadeshwari Temple. The Rath Yatra finally reached Geeta Mandir at around 6 pm.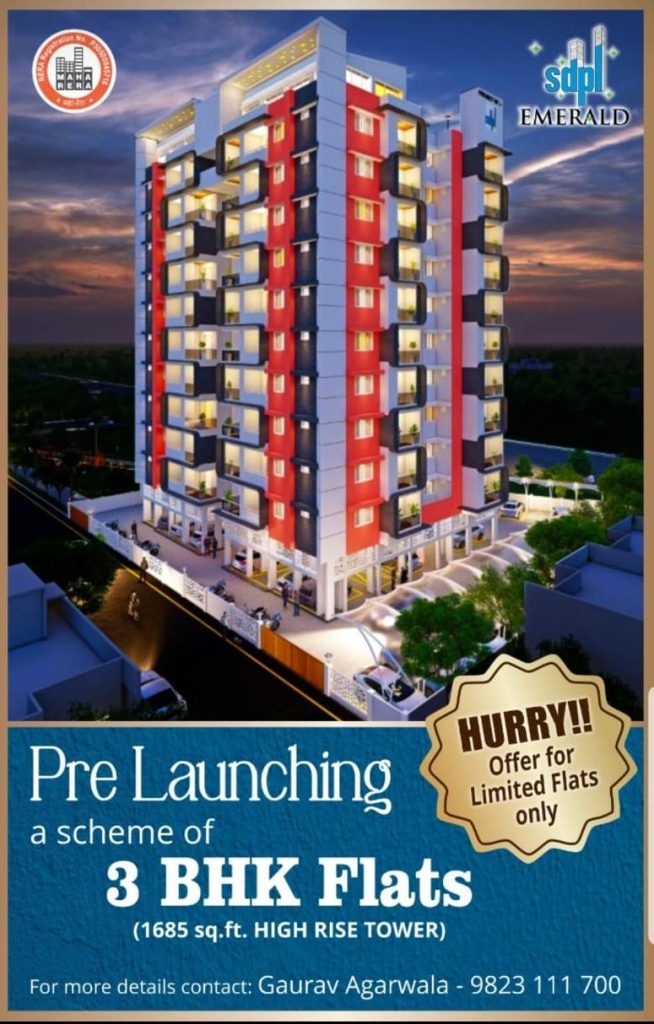 On the Rath Yatra route, many merchants and organizations from the city gave a grand welcome and performed Aarti to the chariot of Lord Jagannath. This included Kamlesh Thawkar, Ashish Khandelwal, Parekh Jewellers, Shanti Dairy, Dave Family, Girish Vyas, Ram Bhandar, Rokade Jewelers, Rajesh Agarwal, Seema Agarwal, Ravi Mehadia, Ravi Agarwal, Nidhi Mohta, Prakash Jewelers, Ajit Sarda, Hatheli, Agarwal Samaj Women Organization, Surabhi Agarwal Women's Organization, Rajesh Lahoti, Rajesh Goyal, Ashok Bansal, Sanjay Agarwal, Kailash Liladia, Vijay Saraf, Rajesh Agarwal, Deepa Agarwal, Madhavi Sakhi Manch, Agarwal Women's Organization, Ritu Sarda, Chandak Kothi, Preeti Dhariwal, Shakuntala Agarwal, International Agrawal Samaj Mahila Sangathan, Marwari Mahila Sangha, Anand Chandak, Agyaram Devi Seva Samiti, Suresh Tiwari, Ratan Builders, Rajendra Poddar, Ravindra Kanhoria, Dr. Prakash Khaitan, Agrasen Mandal etc.
Distinguished residents of the city performed the aarti of Lord Jagannath and the chariot of God. Apart from this, the Muslim community also welcomed the Rath Yatra. Along with this, Prasad was distributed among the devotees. Thousands of devotees participated in this Rath Yatra festival adorned with song-music, nritya -sankirtana and attractive flowers and saw the Rath Yatra of God and received his grace. Innumerable devotees from all over the country and abroad participated in this yatra. Dev Rupa Mataji, Borisova Natalia Mataji, Alena Kirpcheva Mataji, Ludbila Mataji from Russia participated in the Rath Yatra.
In the Rath Yatra, the devotees performed Hare Krishna Hare Krishna Krishna Krishna Hare Hare and Hare Ram Hare Ram Ram Ram Hare Hare on the beats of Majira and Mridang. This Yatra and the Devotees immersed in the devotion of Lord Jagannath passed through the main streets of the city. At 6 pm, the Rath Yatra reached Geeta Mandir. On reaching there, the Lord was again offered Chappan bhog.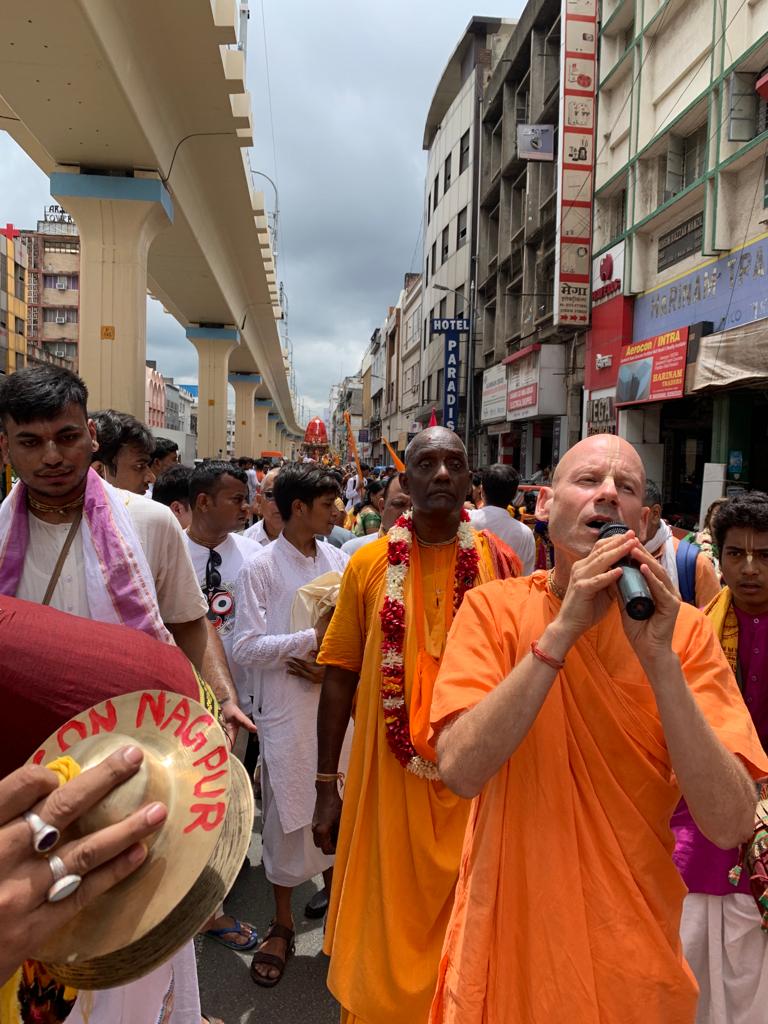 Spokesperson of ISKCON Dr. Shyamsundar Sharma told that in the Geeta Mandir, Sundar Chaitanya Swami Maharaj performed a melodious Kirtan. Thousands of people enjoyed this and danced with enthusiasm. The devotees listened to the story of Jagannath from Shri Loknath Swami Maharaj. He told that about 500 years ago, when Sri Chaitanya Mahaprabhu (Shri Krishna) saw Lord Jagannath, Baladeva, Subhadra sitting on their chariots, they started dancing in front of them. He also said that Sri Krishnadas Kaviraj Goswami's Chaitanya Charitamrita has mentioned that 'Rather Sajani Dekhti Loke Chamatkar, Nava Hemaya Ratha Samueru Aakar,' i.e. the decoration of the chariot was so attractive that everyone was astonished. The chariot looked like a Sumeru mountain made of gold. Seeing him, the devotees performed soulful nam-sankirtans. After the story, the members of ISKCON Girls Forum performed a beautiful group dance. After that everyone took Mahaprasad.
There was remarkable cooperation of Nagpur Police during the entire Rath Yatra. Police were deployed from place to place. Brajendra Tanaya Prabhu, Nityananda Chaitanya Prabhu, Vishal Prabhu, Sudama Prabhu, Punyashloka Prabhu, Venugopal Prabhu, Amayatma Prabhu, Purushottam Thakur Prabhu, Karpankaj Prabhu, Raghupati Sharan Prabhu, Jayakrishna Prabhu, Narahari Thakur Prabhu, Sri Balaram Prabhu, Vamana Prabhu, Sadhukripa Prabhu, Pranbandhu Prabhu, Prannath Prabhu, Rajesh Rakwar, Sadhanabhakti Mataji, Govindpriya Mataji, Adishakti Mataji, Praveen Sahni, Sanjay Gupta, Yogesh Titarmare, Arjun Raikwar, Kishan Yadav, Ashank, Akshay, Kunal, Jignesh, Prathamesh, Shubham, Devotees like Navneet, Yash, Narayan etc. made efforts to make this yatra a success.