CREDAI Nagpur Metro is all set to open doors of its much awaited 'Property Expo 2022' on October 7. The four-day event will continue till October 10 at Chitnavis Centre, besides Hislop College, Civil
Lines, Nagpur.
More than 50 developers will participate in the expo who will exhibit properties – both in residential and commercial categories. CREDAI members are known for exhibiting sanctioned properties with
fair and clear legal standards.
Sensing the opportunity, CREDAI leverages the benefits to the consumer by tabling best property options in Nagpur and metro region. This EXPO is a timely intervention in the market when the banking rates are in sync with customer needs, following which other banking organisations have accepted the domino effect.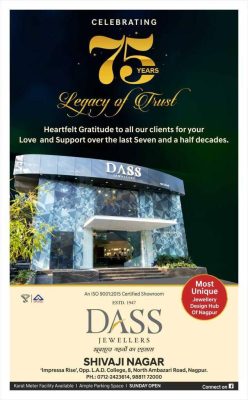 This would benefit buyers and investors to opt for best properties by scanning various available options with CREDAI members in CREDAI Property Expo October 2022. CREDAI is the only consumer oriented organisation, working for the end consumer and investor in every sense, ranging from banking and
financial issues to construction and development norms.
Various dignitaries and eminent politicians along with who's who of the city would grace the event which stretched over 4 days. Through this expo, CREDAI is dedicated to the cause of improving the image of the real estate developer in the eyes of customers, the Government and the media.
CREDAI Nagpur Metro invites everyone to come and experience the total property platter of the best properties in Nagpur. CREDAI, which has over 11,500 members through 23 state chapters and 154 city chapters. CREDAI is a recognised partner for the Government. In this capacity, CREDAI is represented on committees set up to formulate policies relating to housing and habitat.
Some of the important initiatives that CREDAI has been associated which include the Housing and Habitat Policy 2007, the Steering Committee for Urban Developing, Housing and Poverty Alleviation for the 11th five-year plan, Committees of the Bureau of Indian Standards (BIS), Bureau of Energy Efficiency (BEE), Planning Commission and others. CREDAI promotes ethics, best practices, and professional practice.
CREDAI supports its member developers in establishing a reputation as professional organisations.
CREDAI's code of conduct provides clear guidelines for developers to serve their customers in an ethical
and transparent manner.