A holiday sale has been launched by the Tata-owned airline Vistara for both its domestic and international routes. Discounts on all three cabin classes—Economy, Premium Economy, and Business Class are available throughout the sale.
Domestic reservations made through the sale are accepted for 72 hours, from 00:01 on October 17 to 23:59 on October 19, 2022. The reduced prices are valid for travel between October 23, 2022, and March 31, 2023. (blackout dates apply).
Domestic one-way prices that include everything range from Rs 1,499 for Economy to Rs 8,999 for Business Class (convenience fees applicable).
All-inclusive round-trip prices for international routes start at Rs 14,149 for Economy, Rs 18,499 for Premium Economy, and Rs 42,499 for Business Class. The booking window is 4 days long and runs from 00:01 on October 17 to 23:59 on October 20.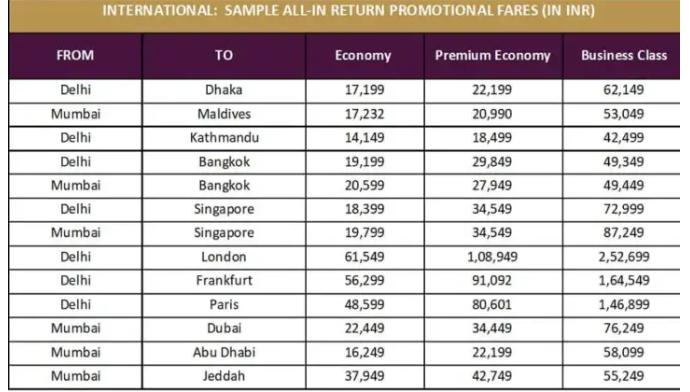 "The festive season is all about creating pleasant memories, and organising trips and vacations is a terrific way to do it," said Deepak Rajawat, Chief Commercial Officer at Vistara.
We are happy to give our customers the opportunity to fly India's greatest airline at reduced rates in response to the recent increase in demand for air travel. We are convinced that our clients will keep selecting Vistara as their go-to airline to reconnect with loved ones during joyous occasions.
The sale is now accepting reservations through the airline's website, iOS and Android mobile apps, airport ticket offices (ATOs), call centres, online travel agencies (OTAs), and travel professionals.
These promotional fares are not eligible for direct channel discounts, corporate discounts, or soft benefits, and coupons cannot be applied to these reservations.
The best-rated airline in India is Vistara, which has also won numerous 'Best Airline' accolades, been praised for maintaining excellent safety standards and providing world-class cabin cleanliness.
The airline was recently honoured at the Skytrax World Airline Awards 2022 as the "Best Airline in India and Southern Asia" for the second year in a row, as well as the "Best Airline Staff Service in India and Southern Asia" for the fourth year in a row, the "Best Cabin Crew in India and Southern Asia" for the second year in a row, and the "Best Business Class in India and Southern Asia."