The winter chill is palpable in Vidarbha following the withdrawal of the South West monsoon over the last few days. The minimum temperature in the region has fallen below 20 degrees Celsius in the last 24 hours.
Yavatmal recorded the lowest minimum temperature of 15.5 degrees Celsius on Saturday, which was 4 degrees below normal. Nagpur came in second with a minimum temperature of 17.2 degrees Celsius, which was 2 degrees below normal.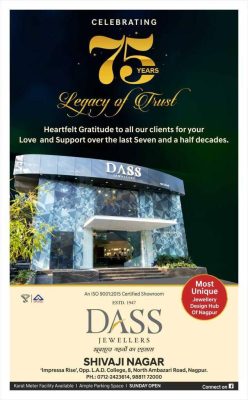 Amravati (18.0 degrees Celsius), Buldana (18.8 degrees Celsius), Brahmapuri (18.6 degrees Celsius), Chandrapur (19.6 degrees Celsius), Gadchiroli (18.4 degrees Celsius), Gondia (18.5 degrees Celsius) and Wardha (18.0 degrees Celsius) recorded the mini mum temperature below 20 degrees mark. Akola, with 20.9 degrees Celsius, recorded the highest minimum temperature in the region, on Saturday.
Weather experts are predicting chill this winter due to extended South-West monsoon this year. Nagpur city, this mon soon, received excess rains in last four months. Between October 1 and 22, the city received 138.8 mm rainfall, which was the highest rainfall in the month of October in last nine years.
In contrast, the maximum temperature all over Vidarbha remained above 30 degrees mark which was 1-3 degrees above normal.
According to Indian 2015 Meteorological Department (IMD), the 2017 weather will remain dry throughout the week, even on Diwali. Due to dry weather, the winter chill will increase in com ing days.