The 2nd edition of the Pritam Singh Memorial Conference was inaugurated at IIM Nagpur on Thursday. More than 500 participants, with 74 parallel tracks, are attending the three-day conference on 'Leading the business of the future: Talent, Transformation and Technology in a changing world.'
Mr. C. P. Gurnani, CEO & MD, Tech Mahindra and Chairman IIM Nagpur Board of Governors, hailed the late Dr. Pritam Singh as a transformation guru and highlighted his efforts to revolutionize the educational landscape. He urged upon the need to refresh talent, technology, processes and bring about a transformation from within. "Make technology and transformation more contextual. Challenges are bound to be there. But more important is to reposition and reorient oneself to find solutions and overcome challenges," he said while delivering the inaugural address online.
Earlier, the dignitaries lighted the traditional lamp to mark the inauguration of the conference.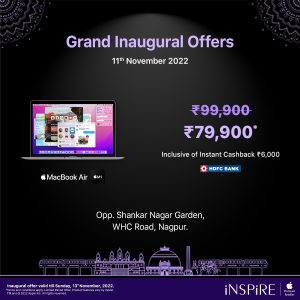 Delivering the keynote address online, Mr. Ranjan Kumar Mohapatra, Director of HR IOCL, pointed out that after the pandemic, people, irrespective of age, have realised that physical circumstances and achievements may vanish overnight. "Knowledge should be implicit, explicit, and tacit," advised Mr. Mohapatra. "The workforce, these days, wants better work conditions and satisfaction from their job. It is no more just a source of income for professionals. A recent survey pointed out that 74 percent of people seek for a job where their work matters," he informed.
Mr. Mohapatra said, "The HR has to understand and grasp the tectonic shift happening in the technology and how to use it for better functioning. The HR has to be more proactive in building a bridge between the experienced and fresh workforce."
Dr. Harivansh Chaturvedi, Director of the Birla Institute of Management Technology, paid rich tributes to Dr. Pritam Singh. He said, "Dr. Singh was an academic leader par excellence and touched many lives. He created great institutions across India." Dr. Singh was a visionary who realized that India had good academicians but they were not good as administrators. To counter this, he mentored many scholars to become directors of reputed institutions like IIMs, informed Dr. Chaturvedi. Dr. Pritam Singh Foundation is primarily involved in producing and grooming leaders, he added.
At the outset, Dr. Bhimaraya Metri, Director IIM Nagpur, updated the visiting delegates on the activities and progress achieved by the institute since its inception in 2015. "The institute has concurrently grown horizontally and vertically," he said while insisting that IIM Nagpur was a holistic business school that aspired to develop value-driven leaders, global managers, and entrepreneurs with solid conceptual foundations and an analytical mindset. Terming Dr. Pritam Singh as the leader of leaders, Dr. Metri said that many directors and academicians who rose to higher positions were mentored by the visionary.
Dr. Subrat Kumar, CEO of People Labs Pvt Ltd, delivered the vote of thanks. Chairpersons of the conference Prof Shiva Kakkar, Prof Alok Kumar Singh, and Rama Papi Reddy Annapureddy were present on the occasion.