2022:In its continuous efforts to give back to the society, Aakash BYJU'S, the national leader in test preparatory services,today embracedthe responsibility of environmental awareness by beautifying city spots in Nagpur with hand-painted wall art. As part of its Corporate Social Responsibility (CSR), Aakash BYJU's students, faculty, branch staffconducteda 'Social Wall Painting' campaignat Law College, Law College Square, Amravati Road, Nagpur here.
The initiative aims tocreate awareness amongst students and citizens to contribute towards the environment and social well-being of the city by painting relevant images and slogans on the walls. Nearly 200 students and faculty members and branch staff from the two branches of Aakash BYJU'S in
Nagpur revamped these walls while making art accessible to the public and creating awareness about
important social issues.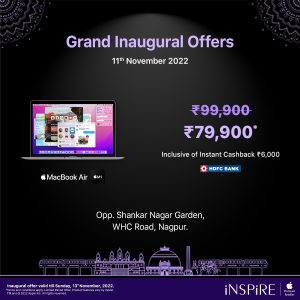 Speaking about the campaign, Mr. Amit Singh Rathore, Regional Director, Aakash BYJU'S said, "Viewers often relate in some way to social art and are sometimes even influenced by it. This initiative of Aakash BYJU'S to paint slogans pertaining to environmental awareness on the most popular and busiest intersections in Nagpur is a reflection of our belief and responsibility to respect, protect and preserve our environment. Moreover, the campaign also helps in bringing together young minds who are craving to make a difference to the society by making the city a brighter and better place to live in."
About Aakash BYJU'S
Aakash BYJU'S provides comprehensive test preparatory services for students preparing for Medical (NEET) and Engineering Entrance Examinations (JEE), School/Board Exams and Competitive Exams such as NTSE, KVPY, and Olympiads. The "Aakash" brand is associated with quality coaching and a proven student selection track record in various Medical (NEET) and JEE/Engineering Entrance Examinations, Scholarship exams & Olympiads.
With over 34 years of operational experience in the test preparatory industry, the company has a large number of selections in Medical & Engineering Entrance Exams and several Foundation level Scholarship exams/Olympiads, a pan India network of 295+ Aakash BYJU'S Centers (including franchisee), and an annual student count of more tha 3,30,000.
The Aakash group has investment from Think & Learn Pvt Ltd (BYJU'S) as well as by world's largest Private Equity firm Blackstone.  www.aakash.ac.in