Metro trains are operating on the 26.5 km route between Kasturchand Park-Khapri Metro Station and Sitabuldi Interchange-Lokmanya Nagar Metro Station under Maha Metro Nagpur and a good number of commuters are using Metro services. The ridership has been on the upswing continuously.
Apart from the ridership generated for metro travel, Maha Metro is also getting a good response from citizens for its property development activities. Apart from large shops, Maha Metro has also provided smaller spaces of 100 sq. mtr at its metro stations. Tenders have been floated for granting of business license for a period of 9 years.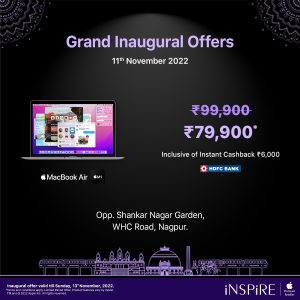 Those who are allotted shops at metro stations shall get first priority for re-calling after the tender period of 09 years is over. The tender has been floated for 68 shops.
The tender floated earlier by Maha Metro has received good response from the citizens and the electronic market at Zero Mile Freedom Park Metro Station as well as the commercial spaces at Jhansi Rani Square, Subhash Nagar and Lokmanya Nagar Metro Station have been already been leased.
Maha Metro appeals those interested in being part of this exercise, to contact Property Development department at Metro Bhawan for additional information regarding the available spaces at various metro stations. Maha Metro has set an ambitious target of earning 50% revenue through non-fare boxes.