Nagpur, Maharashtra's third-largest city, is regarded as the state's winter capital. It is also referred to as the Tiger Capital. Youngsters are the most enthusiastic and like locations that are dynamic in every aspect. There are several locations that are popular with young people since they are affordable and great for day getaways.
Chikhaldara
This hill station is well-known for its Wildlife Sanctuary and is situated above the 1120-metre ocean level in the Amravati district of Maharashtra. Any nature lover will be impressed by the variety of animals, birds, and plants found at Chikhaldara. There are several well-known locations that provide captivating views of Chikhaldara, including Prospect Point, Devi Point, and Hurricane Point. Chikhaldara is 231 kilometres away from Nagpur city by road.
Surabardi
It is a lovely and spiritual location outside of Nagpur, close to a wadi, with 12 jyotirlings inside wonderfully crafted caves and a large statue of Shiva Parvati on the top of an artificial mountain. It's the perfect spot to unwind. It is 16 kilometres from Nagpur city. The Nagpur Amravati National Highway passes through the Surabardi Village. After arriving there, one must cross a highway before arriving at the location, which is only a couple of kilometres away.
Amba Khori
One of the most popular tourist destinations close to Nagpur is Amba Khori, which is situated near the bank of the River Pench and is known for capturing the senses. This place is incredibly unusual and is nothing short of a foreign environment. Amba Khori is a great destination for a vacation to take in the natural beauty, early mornings, and the way the colours of the terrain change as the day goes on. It's not just a waterfall to draw people in. It is only 80 miles away from Nagpur.
Khekranala
Khekranala, a lush green adventure destination offering a fun-filled experience, rests in the lap of the Khapa range. Khekranala is well known for its trekking, but it also draws a lot of visitors with its turquoise lakes and Dam encircled by thick forest. Set up camp right here and let the magical atmosphere of this green and blue landscape engulf you. Visit the famous Shiv Temple which is housed in a cave that was formed naturally. Therefore, everyone who likes nature and adventure must go to this location with their family or friends. Khekranala is 64 kilometres away from Nagpur.
Adasa
This is one of the eight Ashta-Vinayak shrines in Vidarbha and is well known for its enormous self-created Lord Ganesha and is exquisitely crafted. The idol of Lord Ganesha is 12 feet tall and 7 feet wide when it is in its full splendour. This temple, which is tucked away in a little Adasa Village, is one of the most popular tourist destinations nearby Nagpur. This temple, which has 40–50 stairs and is perched atop a tiny mound, is renowned for its serene atmosphere and a stunning 360-degree view of the surroundings. The distance from Adasa to Nagpur City is 36 kilometres.
Waki woods
The Waki Woods, which is well known for its lush greenery and serene atmosphere, is the ideal location for a day or two of camping with your loved ones. Near Nagpur, Waki Woods is always green and offers a wide range of sports and activities, including archery, boating, horseback riding, and more. In Waki Woods, one may also enjoy the breathtaking scenery of the sprawling flora and fauna. The finest location for those looking for tranquilly, the outdoors, adventure, and hiking is thus 30 km from Nagpur City.
Zilpi lake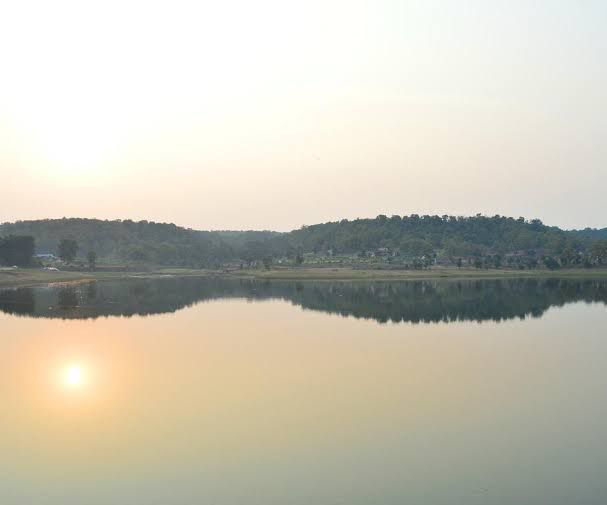 This small, lovely lake is tucked away on Hingna Road, about 25 kilometres from the city's centre, and is bordered on all sides by thick greenery. It is close to Mohagaon Village. Zilpi Lake is a beautiful location for a picnic, yet the area is still developing in terms of commerce.
Ghogra Mahadev
Ghogra Mahadev is a unique natural wonder close to Nagpur. This location is in the midst of nowhere, surrounded by wide open spaces with scant vegetation. Without the snow, the white granite surfaces roughly resemble Kailash Parvat, the fabled home of Lord Shiva. The pure Pench River meanders between these boulders, which are arranged like a maze and add to its allure. There are enormous rocks as far as the eye can see. In fact, the main temple's walkway is lined with large stones on both sides, and even the staircase at the entrance is composed of rocks.
Muktai Waterfall
The most stunning waterfall in the Chandrapur district is the Muktai waterfall. It is 122 kilometres distant. A short hike can be taken to reach the waterfall that is located in the heart of a deep forest.
Dhapewada
Within 60 kilometres of Nagpur is Dhapewada, which is home to the well-known Vithoba Temple. Dhapewada is located peacefully on the banks of the cool River Chandrabhaga, and is close to the Ramtek hill, which has served as a lovely backdrop. Most tourists start by paying respects to the sacred sites before relaxing in the tranquil waters.