On Wednesday morning, the 2 walls of the illegal construction were demolished at the Karnal Biryani Centre, Mominpura. Reportedly, the premise was given on lease by the Municipal Corporation to the Muslim Library in Mominpura. The M.N.PA hotel started illegally in the name of Hotel Karnal Biryani.
Nagpur Bench of Bombay High Court filed a written petition no. 539/2015 in Hon. Pursuant to the order passed by the High Court dated 31/03/2017, orders have been issued to take action under the provisions of Section 81 B (3) of the Maharashtra Municipal Corporation Act.
A notice dated 17/05/2022 was served by Zone under Clause 53 (1) of the Maharashtra Regional and Town Planning Act, 1966. The illegal construction was demolished completely with the help of JCB.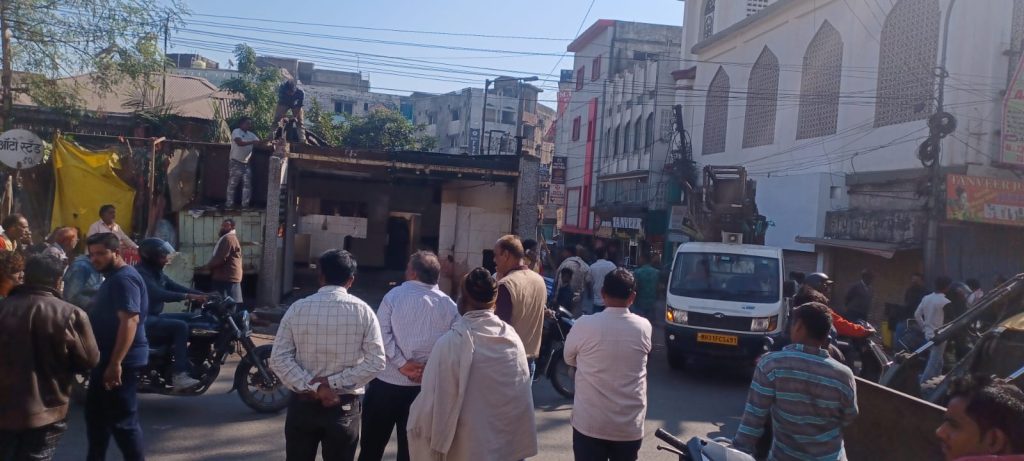 After the incident, VinodKumar Shiv Narayan, Shanti village Jaiswal Bahiwatdar of CA Road Nagpur, Sarang Jaiswal, and Paresh Jaiswal was served a notice by the Zone on 22/09/2019 under Section 31 of the Maharashtra Slum Act 1971.
Additionally, as per an internal complaint, at Dhantoli Zone 4, encroachment action was taken at Omkar Nagar Chowk in which 4 temporary shops were illegally constructed on the footpath were demolished and the premises was cleared after which encroachment action was taken up to Omkar Nagar Chowk, Bhagwan Nagar Road in which the road and footpaths shops along with 4 tin sheds were removed.
Laxmi Nagar Zone also had another encroachment. One in which encroachment on roads, as well as footpaths, were cleared, running from Internal Zone Office to Laxmi Nagar Chowk to Rahate Colony to Lokmat Chowk to Diksha Bhoomi Chowk to Kachipura to Dev Nagar. The removal of about 36 such encroachments brought out one truckload of material.
The above actions were carried out under the guidance of Ashok Patil, Deputy Commissioner of Encroachments, Bhaskar Malve along with the encroachment teams.