Pench Tiger Reserve in Maharashtra held its first butterfly survey from March 10 to 12 in collaboration with Tinsa Ecological Foundation.
A total of 105 participants from 11 states took part in the survey. The participants were from 18-67 years of age including 60 males and 45 females. Half of the participants were from Guru Ghasidas University in Bilaspur, Chhattisgarh, Kota University in Rajasthan, and Nagpur University in Maharashtra.
The survey sought baseline data for the butterfly. By conducting such surveys throughout the year, the population and species dynamics can be determined.
Tinsa Ecological Foundation, a technical partner, designed the survey. Out of 65 camps, 42 were chosen for a survey using the proportional random sampling method across seven PTR ranges. Each camp was chosen as the center, and three sampling trails covering major beat areas were chosen for the survey that PTR will use for the Carnivore Survey during the All India Tiger Estimation (AITE) and the First Bird Survey that was held in January 2023.
Each camp had a team of 2-3 participants, with at least one butterfly observer (expert) and one or two amateurs or newcomers. Depending on travel time from Sillari to respective camps, each team covered a minimum of three survey trails (samples) and a maximum of four (10th evening, 11th morning and evening, and 12th morning).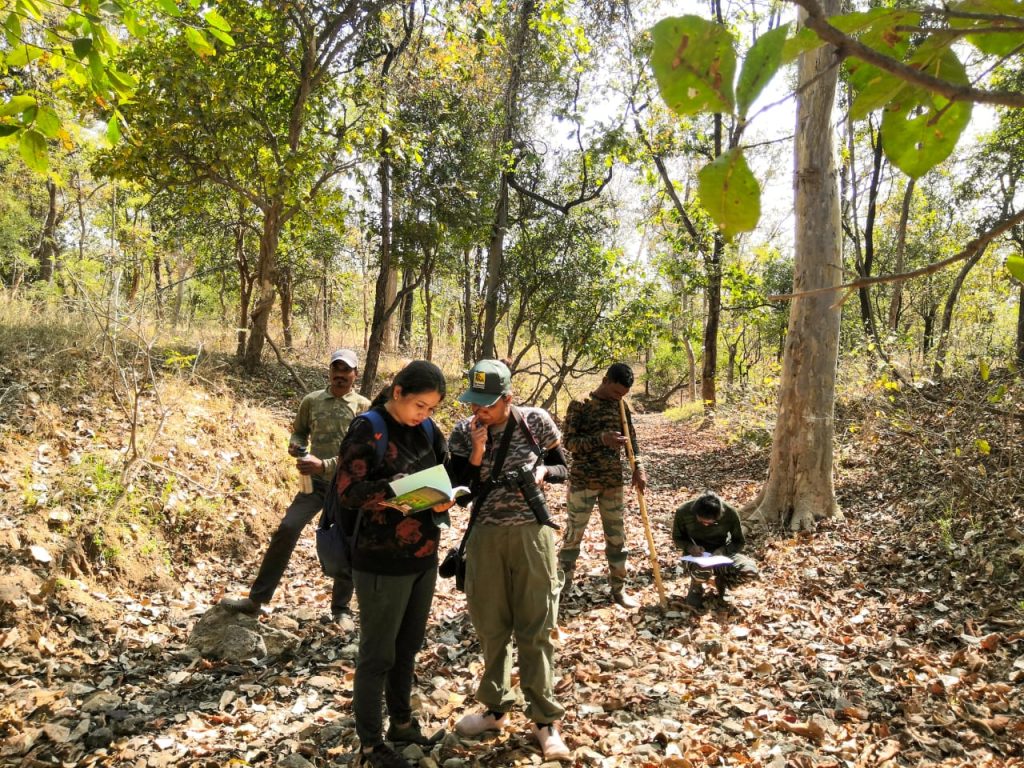 Pollard's Walk Method was used by participants, which is a type of modified line transect method in which an observer images a 5m cube and records butterfly observations. The data was collected on KoboCollect, a free data collection toolset developed by Harvard Humanitarian Initiatives.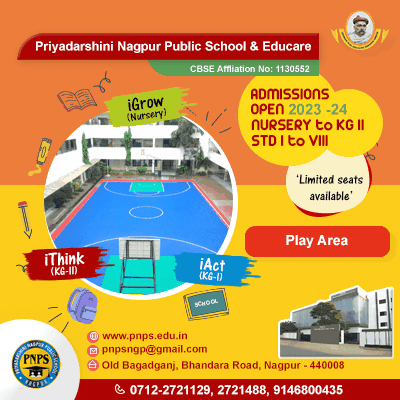 The program was inaugurated at Amaltas Tourism Complex on March 10 with formal registration, distribution of kits, briefing on Pench Tiger Reserve by RFO Mangesh Tate, survey method by Tinsa Team member Shubham Chapekar, Entomologist, Ajinkya Bhatkar, WWF India and Hon. Wildlife Warden briefed participants about the role of such citizen science surveys in conservation. Dr. PN Shukla, DD, PTR shared words of encouragement to participants, followed by Atul Deokar, ACF, PTR, and Dr. Ashish Tiple, Entomologist working in Central India. Teams were distributed, and respective RFOs led the participants to their respective camps.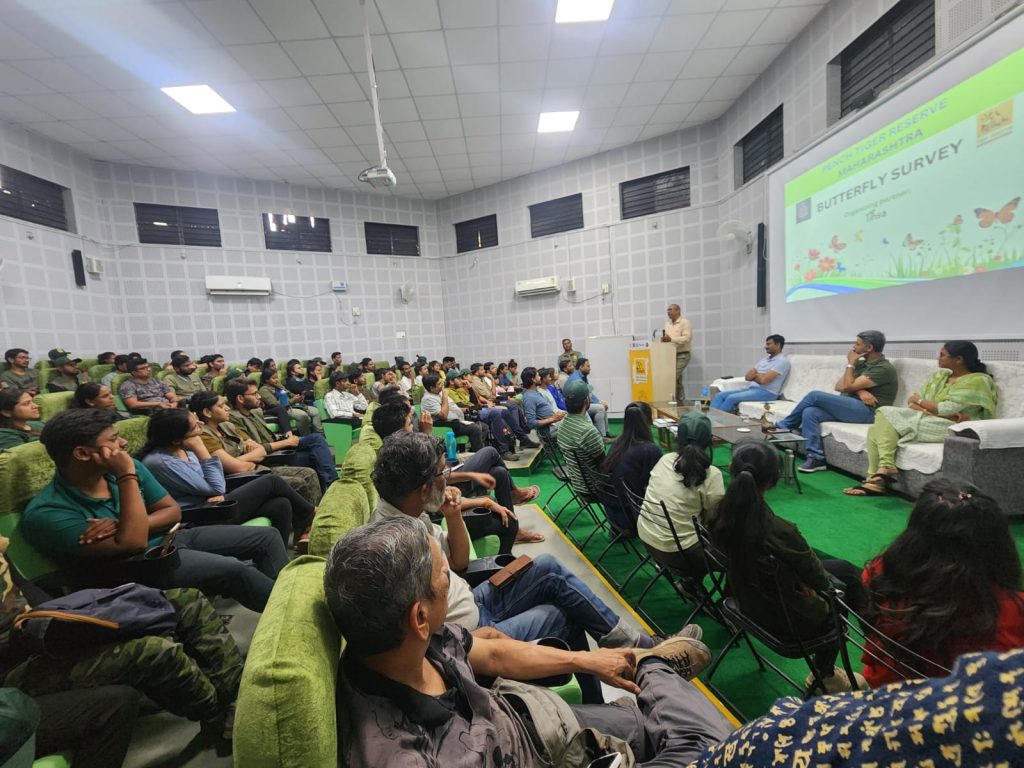 On the 11th morning, evening, and 12th morning, participants surveyed the designated trails, as well as moths and nocturnal insects in their respective camps on the 11th night.
After the morning survey, the participants were brought back to Sillari for the closing ceremony where they submitted collected data on the kobo server with photographs and GPS files.
At the closing ceremony Rajneesh Singh, IFS (Deputy Director Pench TR, Madhya Pradesh), and Divya Bharti, IFS (DCF Melghat Tiger Reserve) were present as chief guests of the event. Rajneesh advocated that such citizen science-based surveys need to be scientifically sound.
Divya Bharti, IFS shared her experience as a forester and her opportunistic documentation of insect diversity in her administrative areas. Dr. Amit Kumar founder of TINSA shared the compiled result on butterfly diversity.
In spite of the lean (summer) session, participants have recorded 129 species from 5 families with 49 new records and 10 new range extensions. New records will again be confirmed with earlier works and references.
The important species recorded included Blue Mormon, Conjoined swift, Common Nawab, Brown King Crow, Psych, Tailed Palm Fly, Crimson Rose, Common Treebrown, Grass Demon, Common Lascar, etc.
In addition, Pratiksha Singh (Ph.D. scholar, Barkatullah University) and team member TINSA recorded many dragonflies and damsel flies in the Pench river bed of Kolitmara. Prathmesh recorded many spiders species near the camp area in East Pench. All the participants were given certificates.
Using the field data, Tinsa will prepare a technical report which will be used for conservation interventions by Pench Tiger Reserve, and follow-up seasonal surveys.
Dr. P.N. Shukla, DD Pench appreciated the efforts of the participants and organising team and said that such surveys will enhance the scientific management of the Tiger Reserve. A. Sreelakshmi appreciated the efforts of organising team and said that such surveys will prove a major tool in connecting citizen and researchers with TR management.