Not only sunglasses make a cool fashion statement, they are also extremely essential for the health of your eyes. The harsh UV rays can cause some serious damage to your eyes. And repeated sun exposure can increase your chances of developing eyelid skin cancer, cataract, or temporary blindness. So protecting not only your eyes but also the skin around your eyes with good quality sunglasses is imperative.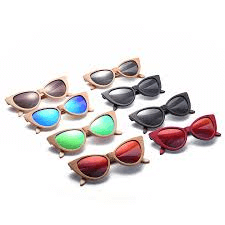 Here are a few tips for selecting the safest, most protective pair of sunglasses:
1. Prefer Dark Over Light (with a pinch of salt)
Dark lenses allow less light to penetrate and are therefore more protective against UV rays. But at the same time, the style of your dark sunglasses can also affect how much the sun can damage your eyes. Since, the darker your glasses, the more your pupils will dilate, thereby allowing in more light. So if your eyes aren't fully protected from all the sides, darker lenses could actually let in more UV light in your eyes, increasing the risk of sun damage.
2. Covered Styles Offer More Protection
The way the sunglasses frame sit on your face makes a significant difference in the amount of protection you get from the sun. Styles like aviators (that sit away from the face) allow more light to reach to your eyes from the sides, back and even the top of the frame. In comparison, the more covered styles that fit in more snugly on your face offers better UV protection. So if you spend a lot of time in the sun, prefer the covered styles over others.
3. Say Yes to Polarized Lenses
Polarized lenses not only reduce the brightness, they also eliminate the harsh glare. They also prevent your eyes getting a squint.
4. Big Is Better
Bigger frames offer way better protection and there's really no harm in going for bigger sunglasses. The wider, larger frame of sunglasses definitely gives you more UV protection.
5. Opt for Anti-Reflective Lenses
Almost 50 % of the UV rays that reach the eyes come from the reflection off the back (rear) surface of the lenses. In order to protect your eyes better, it's important that your lenses are not only coated with a UV protective treatment on the front side, but they should also come with an anti-reflective treatment on the back.
6. Check for the UV Protection Sticker
When you buy your next pair of sunglasses, make sure you check for the sticker or tag on the sunglasses that reads how much UV protection the pair offers. Ideally, it should provide 98% protection against both UVA and UVB rays.
A good pair of sunglasses is not only an accessory, it should also meet its rightful purpose and that is EYE PROTECTION. Give the protection your eyes deserve!