In the words of Keith Richards, "Music is a language that doesn't speak in particular words. It speaks in emotions, and if it's in the bones, it's in the bones." Much like Aditya Modak whose first rendezvous with Hindustani classical music happened when he was all of 5. At an age when most of us are still getting the hang of the lyrics of our rhymes, this prodigy was already singing the seven notes of the ragas.
Academically bright, musically and vocally inclined, Aditya, in his own words had a very normal childhood.  We'd like to differ though, let's just say it was a 'brilliantly' normal childhood. A chartered accountant by profession, Aditya worked with JP Morgan for almost 5 years in Mumbai, when he finally decided to quit his high profile job to pursue music full time. But before he took the inevitable plunge, Aditya wanted to be financially secure.
Pursuing a profession in any kind of fine art isn't all hunky dory and treading this solitary path can lead you into deep waters. However, steady conviction coupled with tenacity and passion not only makes you stand out in the crowd, it also enables you to create an identity of your own which is beyond the fat pay cheques. And just like Wanda Sykes said, "if you feel like there's something out there that you're supposed to be doing, if you have a passion for it, then stop wishing and just do it." That's exactly what Aditya did; he embraced his first love to keep any regrets at bay.How many of us in today's day and age would quit a highly lucrative career and give our tooth and bone to something that defines the rudimentary fabric of our existence?We definitely need more of Aditya's tribe!
Here is the excerpt of our interview with Aditya.
What drew you to the Hindustani Classical Music?
I am the first generation musician in my family. I was sub-consciously drawn to it at the tender age of 5 at my day care where classical music was in the air. Listening to the divine ragas everyday not only piqued my interest in music, it also became a part of my formative years and inculcated the beautiful sanskar of (sangeet)music into me.
Who are you inspired by?
I am inspired by every good musician. However, Bade Ghulam Ali Khan Sahab, Ustad Amir Khan, Abdul Karim khan Sahab,  Antu Joshi have been an integral part of my journey and I have grown up listening to these stalwarts and I still continue to do so.
What are your thoughts on the current situation of music today?
In my opinion, we are in a golden phase right now. A variety of music is being created worldwide and musicians from around the globe are coming together to collaborate with one another and it's great to see music in all its inclusiveness beyond just geographic territories. Even in my city, Mumbai, we have at least one concert happening every day. Opportunities have increased across all art forms and that has propelled many artists to break barriers and experiment a lot more. As far as the popularity of any one genre is concerned, it is the pop music that is undoubtedly more popular amongst the young gen. It's also because pop music is easy to understand and therefore it has more consumers. Hindustani Classical music on the other hand, has its boundaries, wherein the one who is performing has to follow a definite path and a structure, and it needs way more resilience and discipline to learn and perform.
Please explain your creative process.
My creative process is not definitive and therefore cannot be analyzed.  While I take a lot of inspiration from around me, I am a stickler for my daily riyaaz, which is sacrosanct. Often times, my friends and I listen to music together and we have some very interesting discussions around it. Don't be surprised when I say that music is 20% learning and 80% listening. The more you listen, the more you'll learn and the more you'll learn, the more you'll realize that you know just so little and that there's so much to explore.
What's an average day for you like?
(Laughs) My own riyaaz followed by classes in person and online music lessons in mornings. Afternoon time is the time which I devote primarily to listening, experimenting and practising my own skill as a musician.
Do you collaborate with other artists? What is that process?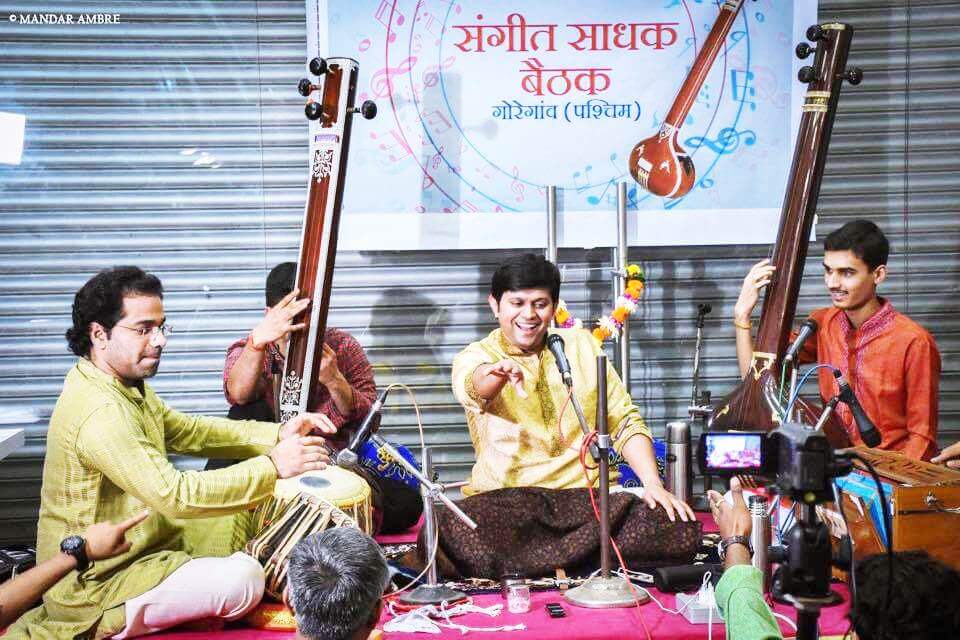 I do like to collaborate and in an effort to bring the experienced and the esoteric together, we formed what we call Sangeet Sadhak– an informal Baithak in the year 2014, wherein we meet every 3-5 months and perform amongst our friends, peers and contemporaries. We've had 9 Baithaks so far. The main objective of this endeavour is to come together, perform and listen to one another.
Please discuss how you interact with your students.
I believe, "learning is not attained by chance. It must be sought for with ardour and attended to with diligence" and that's why I tell my students to be consistent and curious. I want them to ask as many questions as they have as that is how they will get involved in the process of learning. Having said that, I also believe that too much is sometimes dangerous for the progress and young students should surrender themselves to their Gurus whole-heartedly.
What is your favorite part about this line of work? Your least favorite and why?
My most favorite part might be the fact that while classical music has a basic skeletal framework defined, yet, it has no definite art form. Let me elaborate- for instance, a bandish is pre-composed and an artist will stick to his basics but the way he'll perform and how he'll perform might be different and often spontaneous. Raag Yaman, while it has its own boundary chalked out, will have a different ethos every time, even when I attempt it. I also believe, that for any other art form, perfection is the eventual objective whereas, in classical music, perfection is the first step. My least favorite part, which is also like a bitter medicine but mandatory, is the riyaaz. Riyaaz requires extreme patience and it has no destination. Like I always say, I will always be a Chartered Accountant even if I don't practice it on a daily basis but for me to be a musician / singer; I have to keep up with my art and keep it healthy every single day of my life. It is unlike bagging a onetime degree.
Have you ever dealt with performance anxiety?
Oh yeah! Before every performance. I like to be in a peaceful mental state before every performance of mine. There are times when we are working with new technicians on stage and with whom I've got very less time to interact. So I like to have a brief discussion with them in the green room, check on the instruments and have a dry run of how and what we are going to perform for the day.
Tell us about your favorite performance venues.
I have loved performing at various places and countries and the joy and satisfaction of performing at every venue has only added to the amazing experience and have enriched my craft further. However, my concert at Vile Parle, Mumbai where late Kishori Amonkar was present has been one of my most memorable experiences so far. Apart from that, Pali concert held on the illustrious occasion of Guru Purnima is very close to my heart simply because my Guru, Sri Ram Deshpande attended it and he appreciated my performance, which is like the world's biggest achievement for a pupil. And finally, the one at Sharada Sangeet Vidyalaya, Bandra.
What advice would you have for someone wanting to follow in your footsteps?
(Smiles) I'm too young to give advice; however, I would suggest that for the first 5-6 years, a young learner should follow his/her guru blindly. After those initial years, all the questions and the doubts they ever had would be answered automatically. Such is the beauty of tutelage. In my humble opinion, do not question the learning process. A learner should always learn the craft, try and master it and then comes the stage when you can start analyzing the mechanics of music.
Aditya signs off with a beautiful allegory- he says music comprises of 3 techniques. The first being the learning technique, second mastering the technique and third is forgetting the technique. The third and final technique is the one which allows you to immerse yourself into the abounding measureless inexhaustible energy that is music. Also remember, technique might facilitate your art for growth but steadfast devotion to your craft is what will take you closer to the supreme force that we're all in quest for.
With that we would like to wish Aditya a great journey in his chosen path and close off by quoting Huxley-
"After silence, that which comes nearest to expressing the inexpressible is music."