A Mural of Beti Bachao, Beti Padhao campaign was unveiled by the hands of Nagpur Mayor, Nanda Jichkar on November 20, at Kruplani square, Wardha Road. On the occasion, Anil Kokate, Executive Director of Maha metro, VNIT President Vishram Jamdar, former Mayor Archana Dehankar, corporator Tara Yadav, corporator Pallavi Shamkule, Sonali Kadu, Shraddha Pathak, Varsha Thackeray, Vidharbha chief of Bhartia Janta Party Beti Bachao Abhiyan, Shrikant Dehpande Nagpur City Chief Manisha Kashikar, Deputy Commissioner of Transfer, Assistant Commissioner of Laxminagar Zone Raju Bhiwagde, Executive Engineer Dhananjay Mendulkar, Public Relations Officer of Nagpur Metro Akhilesh Halve, Raju Khorgade were present.
While speaking during the ceremony, Jichkar said "Nagpur Municipal Corporation is raising awareness to increase the birth rate of girls. The result of the awareness is beginning to appear. The birth rate of girls has been increased. It has now risen to 2 to 19".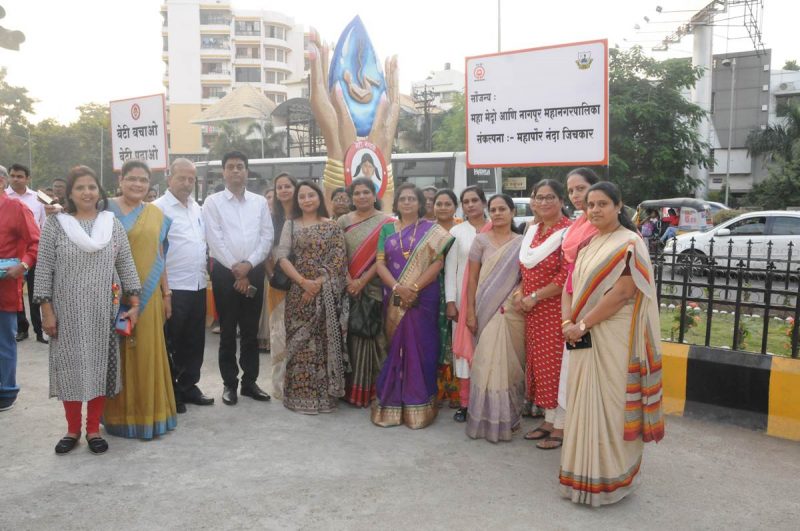 Nagpur Metro Executive Director Anil Kokate also praised the Beti Bachao mission and expressed this mural will be another attraction of Nagpur city. Former Mayor Archana Dehnkar also praised the initiative and wished for further work.
Kashikar, described the journey of mural formation from the introduction. He thanked the Nagpur Municipal Corporation and the Nagpur Metro for helping the Beti Bachao Mission come true with the help of Mayor Jichkar.