CSIR-National Environmental Engineering Research Institute (CSIR-NEERI), in association with International Society for Energy, Environment and Sustainability (ISEES), has organised an International Conference on Sustainable Energy and Environmental Challenges at CSIR-NEERI, Nagpur on November 27 to 29.
The Chief Guest Sudhir Shrivastava, Chairman, Maharashtra Pollution Control Board (MPCB) inaugurated the conference on November 27 in the NEERI Auditorium. Prof. Ashok Pandey, Chairman, ISEES; Prof. Avinash Kumar Agarwal, IIT-Kanpur; Dr. Rakesh Kumar, Director, CSIR-NEERI; and Dr. Nitin Labhsetwar, Organising Secretary were also present on this occasion.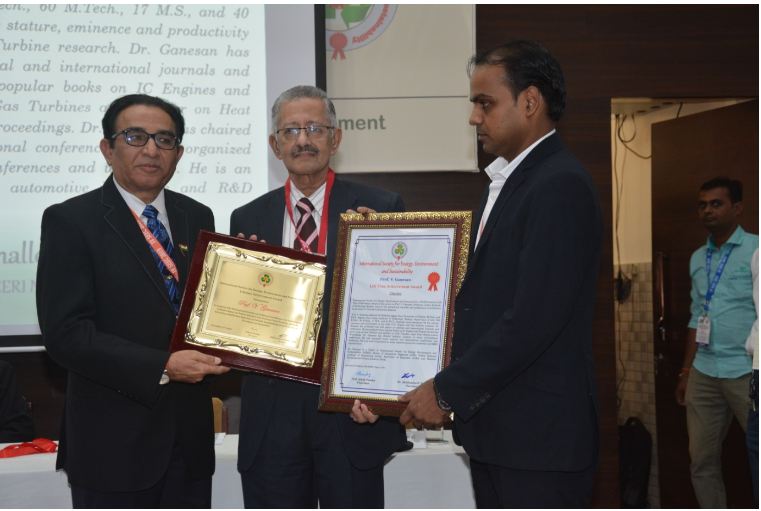 While addressing the participants, Shrivastava presented the data on fossil fuels consumption and their negative impacts including green house gas emissions in the country. India should therefore balance the role of energy in social and economic development with the need to decarbonise, reduce our reliance on fossil fuels, and transition towards lower-carbon energy sources, he added. He recalled the Paris Agreement according to which we need to accelerate the energy transition with sustainability and restrict the earth's average temperature below 1.5 °C. He urged the scientists to more explore and contribute towards the reduction of green house gas emissions and power generation from non-fossil fuel sources.
He said that there is a need to tap India's huge solar-power potential. He informed that India is rigorously working on the viability of storing solar power. He further stressed on the need to harness biomass energy.
Prof. Pandey briefed about the role and contributions of International Society for Energy, Environment and Sustainability (ISEES).
Earlier, in his welcome address, Dr. Rakesh Kumar, CSIR-NEERI said that energy efficiency should be the top priority as it is a key driving force in meeting the environmental and climate goals. He also stressed on life cycle assessment of energy production to minimize environmental impacts.
ISEES Awards viz, Young Scientist Award 2020, Best Ph D Thesis Award, ISEES Fellow Award-2020, ISEES Chairman's Distinguished Service Award – 2020 and Life Time Achievement Award, were given away to the eminent scientists on this occasion. Dr. N K Labhsetwar proposed a vote of thanks.
Eight technical sessions on coal and biogas combustion, water and wastewater treatment, waste to wealth, etc were held on first day. In all, 27 technical sessions have been scheduled in this three-day conference including more than 80 talks by various experts. A panel discussion on Balancing Energy Security, Environmental Impacts & Economic Considerations: Indian Perspective has also been organized on November 28.
Dr. V K Saraswat, Hon'ble Member, NITI Aayog will take part as one of the panelists. More than 250 delegates from India and other countries are participating in the conference. There will be more than 130 posters and oral presentations. This conference has brought together engineers, scientists, academicians, students, managers and other professionals in order to address and discuss emerging sustainable energy and environmental issues.