Devendra Chiklondhe emerged winner in 42 km full marathon during Maha Metro Nagpur Marathon organised by Adventures and You at Tirpude College on Sunday.
In 18 to 45 years men category, Chiklondhe clocked 2:41.53 seconds to achieve premier position. Dulu Sarkar followed him for second place with a timing 2:46:20 seconds. Sushil Kumar Bharti (2:51:39) achieved third place.
In 46 to 99 category, Samrat Gupta (3:10:54), Bikhyat Deuri (3:12:37), Subhash Singh (3:21:00) achieved first to third place respectively.
Different categories of races were flagged off by director (admin) of Maha Metro Anil Kokate, chief commissioner of CGST  H. R. Bhimashankar, president of Sarawati Vidyalaya Alumni Association  Rajendra Kulkarni, race director Mitesh Rambhia and others were present on the occasion.
Results
42 km (18 to 45 yrs): Devendra Chiklondhe (2:41:53), Dulu Sarkar (2:46:20), Sushil Kumar Bharti (2:51:39)
42km (46 to 99 yrs): Samrat Gupta (3:10:54), Bikhyat  Deuri (3:12:37), Subhash Singh (3:21:00)
21 km (18 to 30 women): Yamini Thakre (1:421.01), Meenal Bhede (1:51:14)
21 km (31 to 45 women): Sharda Bhoyar (1:55.54), Savita Shastri (2:22:52), Rekha Thakur (2:34:35)
21 km (46 to 60 women): Sunita Dhote (2:31:44), Maniha Virmai (2.45:24)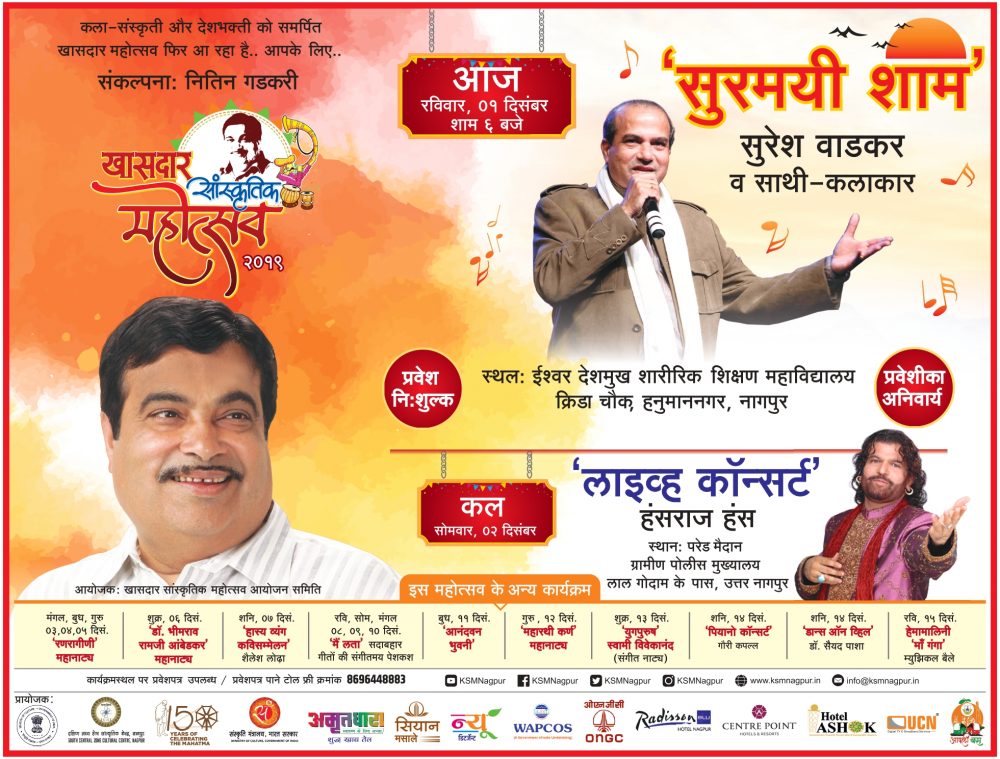 21 km (18 to 30 men): Lalit Gawande (1:15:02), Anil Kumar Yadav (1:18:510, Pravin Dhawale (1:19:520),
21 km (31 to 45 men): Arjun Masram (1:20:47), Sunil M (1:27:35), Shyam Kodape (1:31:40)
21 km (46 to 60 yrs men): Anil Kumar (1:22:15), Ghanshyam Padmagirwar (1:26:20), Vinod Tiwari (1:47:29)
21 km (61 to 99 yrs men): Dinkar Shelke (1:46:48), Ravindra Tarare (2:06:48), Diwakar Bhoyar (2:15:14)
10 km (15 to 30 women): Karuna Karan (0:41:47), Swati Tondekar (0:47:56), Savita Nishad (0:52:07)
10 km (31 to 45 women): Ganika Kokade (0:52:52), Shobha Yadav (0:53:49), Deepika Raut (1:04:41)
10 km (46 to 60 women): Bula Mondal (1:02:04), Sanjay Jadhav (1:07:54), Madhavi Milmmile (1:22:39)
10 km (15 to 30 men): Vrishabh Tiwaskar (0:37:05), Manish Neware (0:37:15), Shahnawaz Khan (0:37:21)
10 km (31 to 45 men): Arjun Salve (0:38:50), Manish Motiani (0:39:57), Pramod Urkude (0:42:05)
10 km (61 to 99 men): Subirkumar Chakraborty (1:05:20), Ashok Sidode (1:13:50), Baliram Kamble (1:14:36), Sharad Bhave  (1:31:45)