In the wake of ongoing lockdown in the city, Nagpur Municipal Corporation Commissioner Tukaram Mundhe has decided to provide door to door service of groceries with an aim to keep the citizens inside their home to prevent the spread of Coronavirus.
About 45 shops falling under Nagpur Municipal Corporation are included in the plan. Nagpur Municipal Corporation is the first in the state to take the initiative for the convenience of the citizens. Mundhe has appealed that citizens to avail service.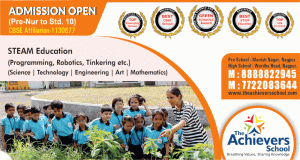 A list of grocery delivery shops is available on the Municipal official Facebook page, along with the area's name and mobile number.
Apart from this Mundhe has also directed the shopkeepers to maintain the social distancing in front of the shops which are running essential services in each zone.
Here is the list of shops that will be providing Home delivery service of grocery:
Swasth Vastu Bhandar (Dharampeth)
Krishna Kashinath Waghmare (Dharampeth),
Gopal General Stores (Dharampeth),
Maharashtra Consumers Federation (Dharampeth),
Hilltop grocery stores (Seminary Hills),
Jitendra grain store, Mahesh Traders, Unity grocery stores, Sanjay grocery stores ( all Gokulpeth)
Hariom Kirana (Ashirwad Nagar, Hudakeshwar),
Raksha Bandhu Super Market (Tukdoji Chowk),
Pawan Traders, Gupta Traders (both near Hoodkeswar Police Station),
Suraj Kirana Stores (Indriya Nagar),
Shahu Kirana Bhandar (Rambagh Medical Chowk),
Gurunanak Traders, Kashmir Grocery Stores (both Cotton Market),
Parasmani Grocery (Baidyanath Chowk),
Sagar Dairy (Cotton Market),
Shri Bhole Kirana & General Stores (Imamwada),
Bante Super Market (Bhagwan Nagar),
Prakash Kirana (Balaji Nagar),
Mahalaxmi Traders (New Balaji Nagar),
Shakti Kirana (Kukade Layout),
Mohit Kirana Stores (Near Hoodkeswar Police Station) ,
Akash Kevramani Grocery Store (Gandhibagh),
Dnyaneshwar Dahake Milk Dairy (Gandhibagh),
RK Grocery Stores (Atwara),
Vallabhai Premji Kirana (Itwara),
Shahu grain store (near Kalmana Market),
Dherya Grocery and grain store (Durga Nagar Bharatwada),
Nilesh Marketing and Dairy (New Hanuman Nagar Bharatwada),
Chandu Kirana Stores (Bharatwada),
Rajesh Kirana Stores (Satna Kirana Kirana Stores)
Janchiz Daily Nids (Vardhman Nagar),
Shri Kirana Stores (old Vardhman Nagar),
 Shri Chakradhar Swami Kirana (Deshpande Layout),
Vishal Grocery Stores (Sanyal Nagar, Nari Road),
Shree Guru Govind Singhji Seva Dal (North Nagpur),
Murali Grocery Stores (Cantonment),
Jas Trading Company & Jas Grocery Stores,
Shiv Shopi Grocery Grocery Suppliers, Raj Kirana, Nandu Pattu Gupta Grocery Stores, The Rajalakshmi Milk Dairy (all Golbazar)