AIIMS Nagpur has cleared that the rumours regarding one of its members suspected to be Coronavirus victim after he complains about suffering from low-grade fever, mild cough, as fake.
AIIMS stated that the person first complained about the symptoms on March 24. There was no history of travel to a COVID-19 affected region and there was no travel to Italy anytime as rumoured. There was no known history of contact with COVID-19 case.
Still, to be sure with the case, a team from the hospital conducted a clinical examination on March 26 after which the patient was advised home quarantine for 14 days.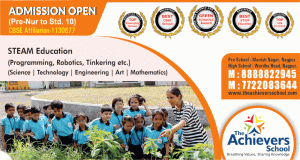 The nasopharyngeal and oral swab for COVID-19 testing was sent to IGGMC, Nagpur and results of the test are Negative.
AIIMS added that the person is now symptomatically better with no report of fever, is stable and doing well.
All medical and paramedical staff of AIIMS Nagpur are responsible citizens at your service. It requested to the public to stay away from rumour-mongering at this time when the nation is fighting against this global pandemic.