Annamrita Foundation under ISKCON Food Relief Foundation, Kalamna Market, started the food service at the new "Sri Govinddas Saraf (Tumsarwale) Centralized Kitchen" at Hare Krishna Land, Ramanuja Nagar, and Kalmana Market – Bharatwada Road, Nagpur. The kitchen has the capacity to cook food for 75000 to one lakh students per day.
The kitchen daily delivers nutritious food to 6500 students of 27 schools falling under Mahadula (Koradi) Grampanchayat and Kamathi municipality in collaboration with the Government of India, Government of Maharashtra.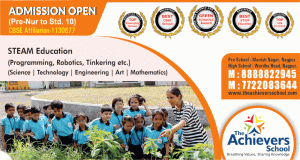 Currently, this service is closed in schools due to the lockdown due to Coronavirus. But due to the insistence of some people, they decided to start the service for the poor and needy people in this lockdown period.
Project directors of Annamrita Foundation Nagpur, Dwij Rajendran Raman and several social workers like Bhagirath Das, Sanjay Gupta, Keshav Popalghat, Sagar Tandekar, Nitesh Jambutkar, Hrishikesh Kshirsagar, and other members worked extremely hard for the success of the initiative.
Annamrita Foundation was recently awarded the "Global Nagpur Award 2019" for the social work. The award was given to Dr. Shyamsunder Sharma, Chairman of Annamrita Foundation Nagpur, by Chancellor of Medical University and National Head of UNESCO Bio Ethic, Ved Prakash Mishra.
Along with this, a greeting letter was given to the Project Director of Annamrita Foundation by Pravin Sahni, treasurer of Nagpur First Foundation, Sachin Jahagirdar.