Prisoners in Nagpur jail launched a hunger strike on Sunday morning opposing the Supreme Courts' decision to release 200 prisoners on parole to reduce the risk of COVID-19 among prisoners.
According to the information, about 200 prisoners are involved in the hunger strike since Sunday demanding that their name should be included in the list of prisoners that are to be released on parole. Despite the jail authority's assurance, inmates continued the hunger strike.
All the state governments have been asked to set up a committee in the next two-three days to select the eligible prisoners and release them as per order. However, before the release of the prisoners the inmates of Nagpur Central Jail have started a hunger strike.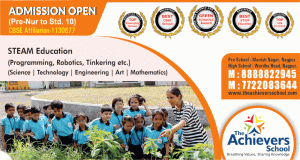 It may be noted that the Supreme Court has ordered the release of prisoners who have been sentenced to less than seven years on parole or on bail.
In the wake of novel Coronavirus, anxiety is gripping the world. Taking all precautionary measures, the central and state government has declared lockdown in the entire country and advised to maintain social distancing.
In such a case, jails that are exceeding its actual capacity increases the risk of COVID-19 infection to spread. Therefore, to reduce the chances, SC decided to release the prisoners on parole or bail for 45 days.