The whole world is reeling under the threat of rapidly spreading Novel Coronavirus (COVID-19) pandemic and our country is not untouched with it. The virus is posing serious challenge for the lives and livelihoods of millions of people of India too.
In this situation, the Government of India has set up a special fund — PM CARES Fund – to secure donations for its fight against COVID-19 as the global pandemic poses a "never-before challenge" for which massive funds are needed. The Government has urged all the citizens including corporates to contribute generously in this fund to support the government in fighting against COVID-19.
Being a responsible corporate citizen, MOIL has risen to meet the needs of the nation and contributed Rs. 45 crores to PM Cares Fund to help in the fight against COVID-19. This is in addition to the contribution of one-day's salary by all the employees of MOIL for the cause.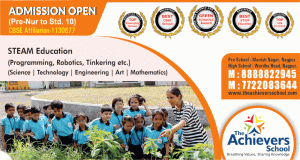 MOIL has already taken up various preventive measures at all its offices, mines, plant, and residential townships to protect the employees and their families against the spread of the CORONA virus.
About MOIL: MOIL Limited is a Schedule-A, Miniratna Category-I CPSE under the administrative control of Ministry of Steel, Government of India. MOIL is the largest producer of manganese ore in the country and operates eleven mines in the State of Maharashtra and Madhya Pradesh.
MOIL holds ~34% of manganese ore reserves of the country and is contributing ~ 50% of the domestic production. The company has an ambitious vision of increasing its production to 25 lakh MT by FY 2024-25.
MOIL is also exploring business opportunities in the state of Gujarat and has MoU with Gujarat Mineral Development Corporation Ltd. (GMDC), for this purpose.