Once again, The Achievers School, Nagpur has displayed its social responsibility and awareness by a wonderful gesture. The entire staff has donated one day's salary to the PM CARES Fund in the wake of the fight against the current corona virus pandemic.
The Director of the school, Mrs. Sapna Katiyar said that when every citizen of the country was doing his/her bit to fight this deadly virus, this was a small gesture from their side, which they hope will inspire others too, especially their students, to give back to the society.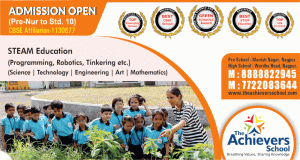 It is noteworthy that the school has come forward on other such occasions too, to contribute towards helping the needy, whether it was the Kerala flood relief or the 'fight hunger' drive on World Food Day. Dr. Priyadarshini Deoghare, Director-Academics & Principal reiterated that the school has always encouraged the staff, students and the parents to contribute and do their bit towards the upliftment of the society.