Due to the outbreak of Corona Virus, Government has taken several steps to contain its spread, like Lock Down, Social Distancing, promoting personal hygiene etc. Indira Gandhi National Open University (IGNOU) also, as part of its Social Responsibility and to support its students, has been taking several steps in this direction.
All employees of IGNOU across the Country have contributed their One Day salary towards Prime Minister Cares – fund, for Covid-19 relief measures. All the Government Circulars on Corona preventive measures have been circulated to its thirty lakhs students through email and other media. Academic Counselling is conducted on Gyad Darshan TV/Web Channel.
IGNOU Nagpur Regional Centre is also adopting various methods to communicate with students and study centre functionaries. "Live' Induction Meeting was held through FaceBook for its students spread across the Region. Dr P Sivaswaroop, Regional Director of IGNOU Nagpur Regional Centre explained them the concept of Open University, about IGNOU, how to use the study material, the salient features of the Self Instruction study material, Evaluation types in IGNOU, like Self-assessment Questions, Home assignments and Term End Examinations. He showed the study material
book and explained them the various student-friendly features embedded in the study material. Dr B Sasicoumar, ARD also explained them. Dr Sivaswaroop also requested all the students to take all precautions to prevent the spread of COVID-19. Students also interacted and their queries were clarified.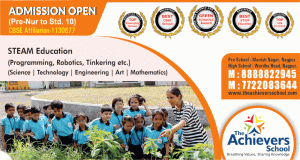 IGNOU Nagpur Regional Centre also held 'Virtual" Coordinators Meeting through Zoom Technology. 18 Coordinators from across the Region from places like Nanded, Chandrapur, Gadchiroli, Kurkheda, Pandarkavda (Yavatmal Dt), Wardha and Nagpur participated. They were informed that due to lockdown, students are permitted now to submit their scanned copies of handwritten assignments through email. Evaluation methods for such e –assignments were explained to them.
All are requested to maintain physical distance and publicise various methods to prevent the Corona Virus, both in their community and to IGNOU students of their respective Study Centres.
Continuing its efforts to use Gyan Vani FM Radio, it will be organizing Phone in Radio Counselling programme for the Environmental Studies Course (BEVAE-101) for 3 days from 7th to 9th April 2020 from 9 am to 10 AM. Gyan Vani FM is heard at 105.6 MHz and telephone number to interact during this period is 0712-2510002.
All the concerned students have been intimated through SMS and email. To help the students under lock down conditions, IGNOU has already extended the last date to submit assignments and exam form upto 30 th April. Induction Meeting was also held through Gyan Vani Nagpur.