For diagnosing COVID – 19, we need to take swab sample of the throat secretions. While doing this, we aren't sure if the patient being examined is Corona positive or not. Hence the doctors and health workers are always scared to do this test.
STOP Corona (Gadget for Safety To Operating Persons) is a safety gadget wherein the doctors/ health workers will stand inside a closed cabin and will be able to take the throat swab, without coming in direct contact with the patient. Taking sample will thus be completely safe. This will reduce the panic amongst the health fraternity. Another important thing is that there is no need to wear a PPE if you are working from this cabin. This will save significant amount being spent on PPE kits too.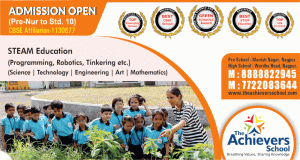 STOP Corona device has been developed out of Rajyasabha MP Padmashri dr Vikas Mahatme's idea. He has given his personal Donation to make this cabin. The actual work of getting it done has been done by Dr. Parikshit Mahajan & Dr. Anantsingh Rajput of Aureus Institute of Medical Sciences (A state of art multispeciality Hospital, Nagpur.)
Today the gadget was dedicated to people and donated to Government Medical College Nagpur and will be put to use immediately. Medical Superintendent – Dr. Avinash Gawande accepted it on behalf of GMC, Nagpur.