The poor people residing in different centers who are struggling with their bread and butter during the lockdown period due to corona are being provided food by the Annamrita Foundation (ISKCON Food Relief Foundation) of the International Krishna Consciousness Association (ISKCON).
MOIL ltd. is providing 2000 plates of food and this is being distributed daily. In addition to this 2500 plates of food are being distributed in collaboration with different donors. A total of 4500 plates of food are being distributed per day.
This food is being prepared in a very hygienic way at Sri Govinddas Saraf (Tumsarwale) Centralized Kitchen of Annamrita Foundation at Ramanuj Nagar, Near Kalamana Market. Shri Ram Joshi, Additional Commissioner of the NMC along with Mid-Day Meal Officer Gautam Gedam paid a sudden visit to the kitchen and inspected the whole process.
At that time the executive administrator of the Annamrita Foundation Keshav Pophalghat was present. Both the officers expressed great pleasure after inspecting the place, and by realizing that food is being prepared in a very hygienic way. Joshi was so impressed that he himself cooked food for the poor. He also reviewed the system of distribution. He was also impressed by the kitchen's ability to cook food.
The capacity of the kitchen is nearly 75000 to 100000 plates of food per day.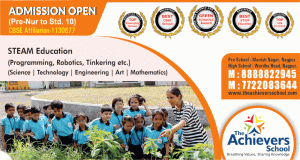 Chairman of the Annamrita Foundation Dr. Shyamsunder Sharma said, that they are getting full support from the donors. Chairman and Managing Director of MOIL Ltd Mukund P. Choudhari, Production and Planning Director D. S. Shom, Finance Director Rakesh Tumane, Human Resources Director Usha Singh, CSR incharge Gopal Bhattacharji, etc are helping for 2000 plates (lunch and dinner).
They have also donated a new modified Bolero pick up vehicle for the food distribution. This is helping us in the food distribution and the distribution process had become quite smooth. The area provided for distribution of food by NMC mainly includes the camps of Nehru Nagar, Lakdganj, Kalmana Ghat, Dipty Signal, Bhandewadi, Hansapuri, Sitaburdi, Jayatala, Asinagar etc. where homeless, labourers, poor people are living.
The administration has provided living facility in these areas and Annamrita Foundation is proving these people food.
Dr Sharma also told that other 2500 plates are donated by H. H. Bhakti Bhrung Govind Goswami Maharaj, Awart Club Nagpur, Dr. Madhusudan Sarda and Dr. Swati Sarda of Sarda Imageing and Pathology, Dr. Arun Somani of Somani Hospital, Dr. Ajay Sakhare, Dr. Atul Somani, Dr. Archana Somani, Dr. Ashish Tikhile, Abhijit Majumdar of Abhijit Realtors & Infraventures Pvt ltd, Iqbal Bhai Memoon of Ama  Industries, Sanjay Rathi, Prafulla Nanda, Indira Chandrashekharan etc.
Those who are working hard to make this project successful include project directors Rajendran Raman, Bhagirath Das, Praveen Sahani. Apart from them Keshav Pophalghat, Nitesh Jambhutkar, Sagar Tandekar, Nitai Devonar, Jitendra Salane and many of their associates are also working hard for the project.