With just two days left for the lockdown to be over the Ministry of Home Affairs on Friday issued an order under the Disaster Management Act, 2005, to extend the nationwide lockdown for a further period of two weeks beyond May 4, it said in a statement.
The central government today said India's death toll due to the coronavirus pandemic has risen to 1,152, with a total of 35,365 cases across the country.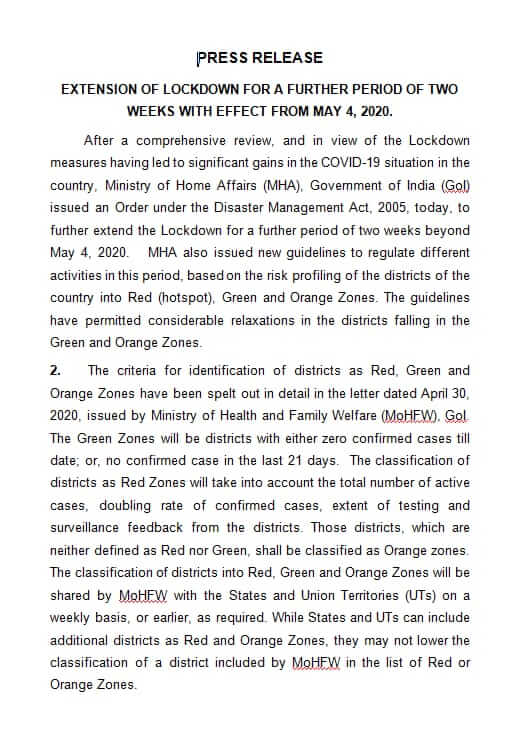 The MHA has also issued new guidelines to regulate different activities in this lockdown period, based on the risk profiling of the districts of the country into Red (hotspot), Green and Orange Zones. The guidelines have permitted considerable relaxations in the districts falling in the Green and Orange Zones.
Activities prohibited in red zones, outside containment zones
Plying of cycle rickshaws and auto rickshaws; taxis and cab aggregators; intra-district and inter-district plying of buses and barber shops, spas and saloons
A limited number of activities will remain prohibited across India, irrespective of the zone, including travel by air, rail, metro and inter-State movement by road; running of schools, colleges, and other educational & training/coaching institutions, informed MHA.
Movement of people for non-essential activities shall remain prohibited between 7 pm to 7 am.
Movement of person above 65 year of age, pregnant women, and children below 10 year of age are prohibited in all zones.
In Orange Zones, in addition to activities permitted in Red Zone, taxis and cab aggregators will be permitted with 1 driver and 1 passenger only. Along with this inter-district movement of individuals and vehicles will be allowed for permitted activities only. Four-wheelers will have a maximum of 2 passengers besides the driver and pillion riding will be allowed on two-wheelers said MHA.
In the Green Zones, all activities are permitted except the limited number of activities which are prohibited throughout the country, irrespective of the Zone. However buses can operate with upto 50% seating capacity and bus depots can operate with upto 50% capacity.
Activities allowed in red zones
Movement of individuals and vehicles for permitted activities with maximum of 2 people.
Industrial establishments in urban areas, Special Economic Zones (SEZs), Export Oriented Units (EOUs), industrial estates and industrial townships with access control have been permitted.
Manufacturing units of essential goods, including drugs, pharmaceuticals, medical devices, production units, their raw material and intermediates, supply chain, manufacturing of IT hardware, jute industry with staggered shifts.
Construction activities in urban areas limited to in-situ construction, construction of renewable energy projects.
Standalone shops, neighborhood shops, and shops in residential complexes permitted to remain open in urban areas, without any distinction of essential and non-essential.
E-Commerce activities, in the Red Zones, are permitted only in respect of essential goods.
Private offices with 33% strength, with remaining person working from home.
Defense and Security services, Health and Family Welfare, Police, Prisons, Home Guards, Civil Defence, Fire and Emergency Services, Disaster management and related services, National Informatics Centre (NIC), Customs, Food Corporation of India (FCI), National Cadet Corps (NCC), Nehru Yuvak Kendra (NYK) and Municipal services shall function without any restrictions
Industrial and construction activities in rural areas including MNREGA works, food processing units, Brik-Kilns are permitted.
Agriculture activities, Animal and Husbandry activities, Health Service, Anganwadis.
Banks, operation of homes for children, senior citizens, woman and widow
Public utilities like water, sanitation, waste management, telecommunications, internet courier and postal services
Electronic media, IT and It enabled services, data and call centres.