According to the Pitch Madison Advertising Report 2020 Mid-Year Review, print media has suffered an estimate de-growth of 51%. In AMJ'20, TV, and Digital together account for 80% market share while Print registered a mere 18% share.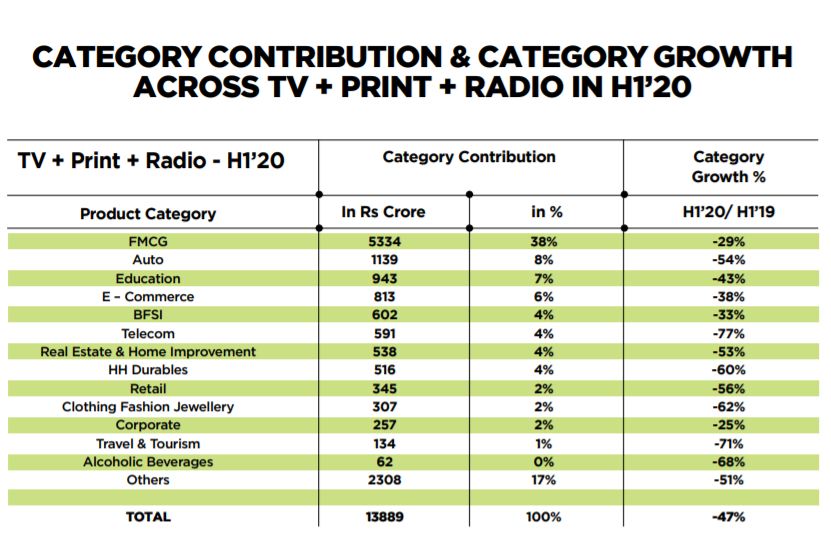 AdEx has collapsed by as much as 65% because of COVID-19 in Q2. Significantly, AdEx had also contracted by 8% in Q1. In absolute terms, it means an unprecedented drop of almost Rs 14,000 crore from Rs 35,110 crore in H1'19 to Rs 21,298 crore in H1 2020.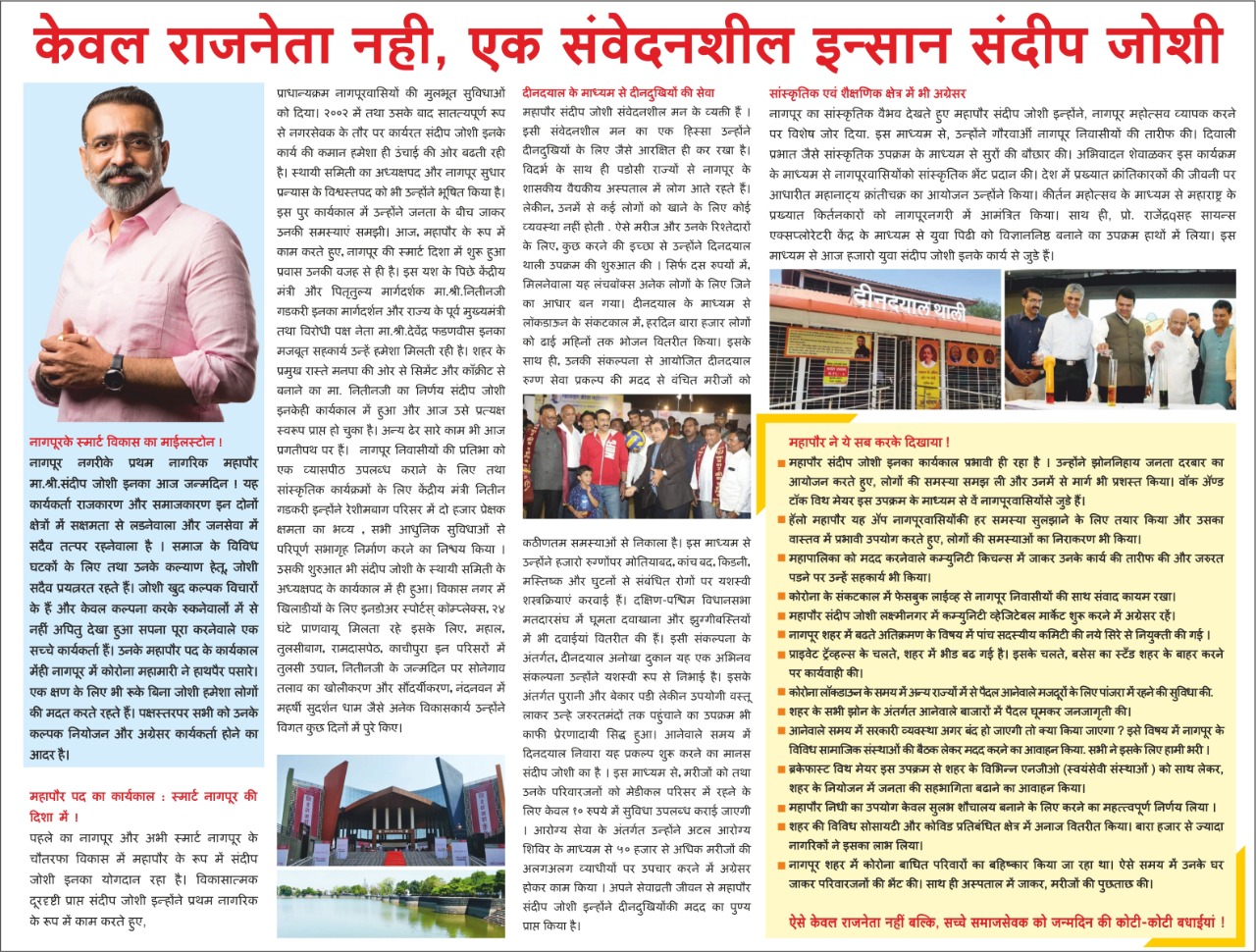 Print media suffered a major setback in H1 '20 due to the lockdown and sluggish economy. The second-largest medium in AdEx, print saw a drop of 80% in Q2 due to lockdown and suspension of newspaper distribution. In Q1, it suffered a 17% drop due to the slowing economy.
In AMJ'20, TV, and Digital together account for 80% market share while Print registered a mere 18% share. Radio came down to 1%, and OOH and Cinema were virtually 'nil'.
"In absolute terms, in H1'20 we estimate Print AdEx to be at Rs 5237 crore, of which Rs 4020 crore came from Q1'20 itself. Q2'20 saw only a marginal AdEx of approximately Rs 1200 crore," read the report.
Digital suffered a minor contraction of just 7%, even as all the other mediums suffered a drop of 40-55%. Digital is also the only medium to grow by 16% in Q1 2020, when all others registered a double-digit drop. In absolute terms, Digital AdEx in H1 20 stood at Rs 6,472 crore, commanding a 30% share of AdEx, firmly displacing Print.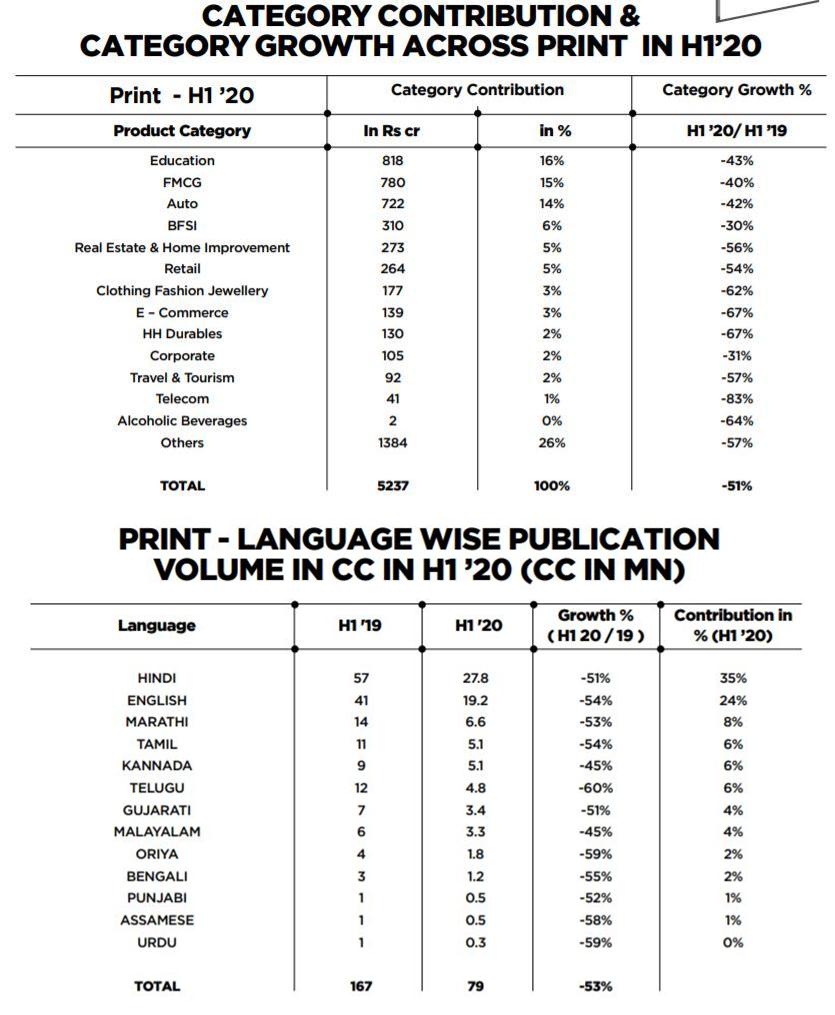 The Print medium which has historically always contributed a minimum of 30% to the total ad pie, has dropped its share to 25% in H1'20. Its share in Q1 '20 dropped marginally to 28% but in Q2 dropped dramatically to 18%. MID-YEAR REVIEW.
In terms of volume or space consumed, there is a 53% decline in H1'20 and 77% decline in volume in Q2'20 itself. Categories like FMCG, Auto and Education continue to be the main cash cows and contributed almost 45% to Print AdEx in H1'20 (38% in 2019).
Education, with 16% contribution, overtook FMCG as the largest contributor to Print AdEx, dethroning FMCG which came second at 15%. Despite the setback faced by the Auto industry in the market, it ranks third in contribution to Print AdEx at 14%.
Publications across languages show a drop in space consumed, of more than 50% in H1'20. English and Hindi publications continue to contribute close to 60% of the total volume like in recent years.
The nationwide lockdown due to the COVID-19 pandemic, under which all cinema halls were ordered closed, has brutally affected the medium which was trying its level best to break the 1% barrier for good. Cinemas have remained shut for over four months now and this has brought Cinema advertising to zero for Q2'20.
In Q1'20 too, Cinema put in a lackluster show, AdEx having dropped by 16% to end Q1'20 with an estimated billing of just Rs 176 crore. With Q2 '20 being nil, AdEx in H1'20 dropped by 52% as compared with H1 '19.
Even today, Cinemas remain closed and indications are that when they open, they will be allowed to operate at only 25% capacity for a few months, which will no doubt add to the miseries of cinema owners who have invested substantially inexpensive real estate, buildings and equipment and the entire Bollywood and regional Films industry, considered to be the largest in the world. Cinema's pain has been OTT's gain, with some films having taken the plunge to cut their losses or sacrifice their profits by launching on OTT.