Raid was conducted by team of the Bureau of Indian Standards (BIS), Nagpur Branch, on Thursday, November 5, at the premises of M/s. GANESH GOURI INDUSTRIES, KH. No. 55/3. LIHIGAON, JABALPUR BY PASS ROAD, TALUKA- KAMPTEE, DIST: NAGPUR. During the raid, the above firm was found engaged in misuse of BIS Certification mark (without having valid BIS Certification Mark License) popularly known as ISI Mark on the product "CPVC pipes for potable hot and cold water distribution supplies", as per IS 15778: 2007.
The above CPVC Pipe manufacturer was found manufacturing various sizes of CPVC pipes with BIS certification mark without having valid license to the said premises, manufacturing Unit & also found using BIS certification mark License No. – 7600019713 – which is belonging to other manufacturer and also found UPVC injection molded fittings for soil waste discharge found packed in carton box printed with IS 14715 details of CPVC pipes & VPVC Fittings found are as under: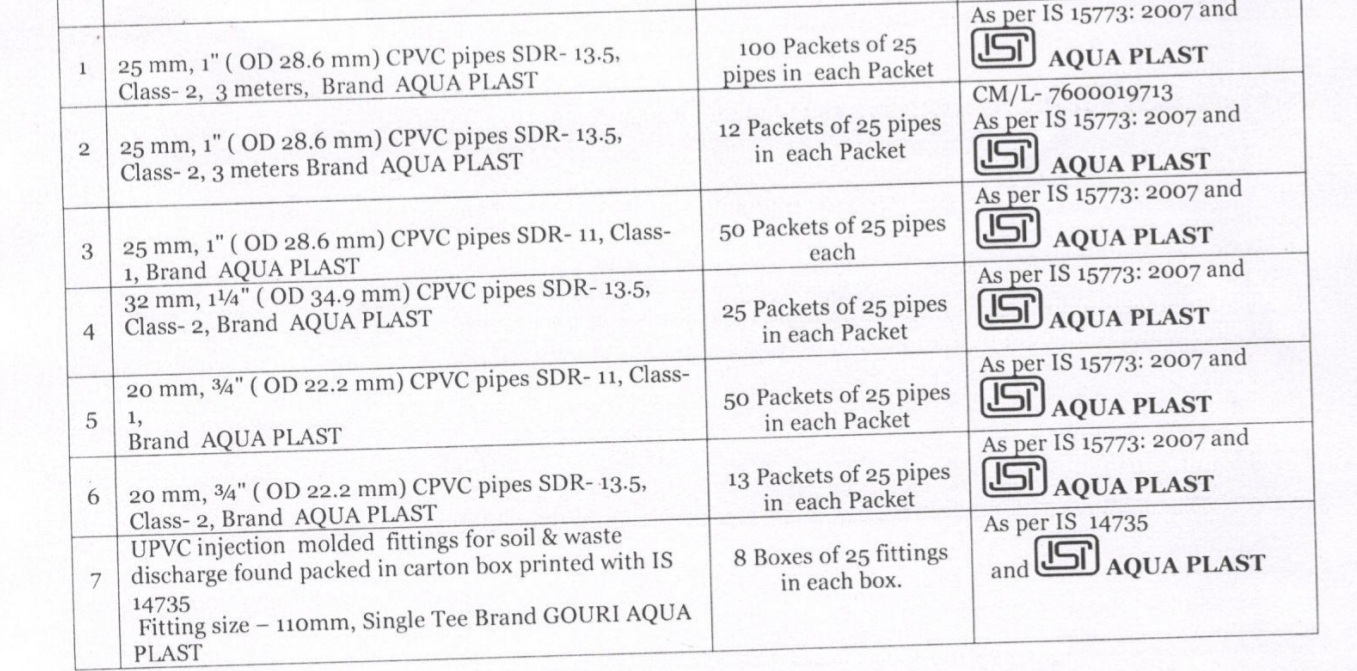 Further appropriate legal actions as per the provisions of BIS Act 2016 shall be initiated against the M GANESH GOURI INDUSTRIES and its Partners.
It is for information to general public and particularly persons involved in Construction field Plumbing field not to use consume/recommend CPVC pipes/UPVC fittings with above indicate Brand, Size and License No. manufactured and supplied by M/s GANESH GOURI INDUSTRIES these Brands of CPVC pipes/UPVC Fittings are spuriously manufactured without following BIS norm and relevant Indian Standards and without having valid Certification Mark License from BIS.
It is suggested that consumers should ascertain the genuineness of the ISI marked products before purchase visiting BIS website https://www.bis.gov.in.
BIS hereby appeals to general consumers to share information about misuse of ISI mark to BIS Nagpur Bran Office on phone Nos. 0712-2540807, 0712-2565171 or on e-mail: ngbo@bis.gov.in, hingbo@bis.gov.in
Although, the scheme itself is voluntary in nature, the Government of India, on considerations of public health and safety, security, infrastructure requirements and mass consumption has enforced mandatory certification on various products through Orders issued from time to time under various Acts.
In order to ensure enhanced consumer safety & compliance to statutory provisions, some products like LPG gas cylinders, regulators and valves, BIS certification scheme requires each lot or batch to be inspected by BIS Certification Officers before release of the product.