CSIR-National Environmental Engineering Research Institute (CSIR-NEERI) and VigyanBharati (VIBHA) organised the 'Vigyan Yatra' on 21st December 2020 as part of the 6th India International Science Festival (IISF-2020) and Jigyasa: Student-Scientist Connect Program to nurture scientific temper and inspire young minds. The Vigyan Yatra was organised through MS-Team, YouTube and Facebook to showcase the scientific activities virtually. Students and teachers from Kendriya Vidyalayas, Navodaya Vidyalayas, Government Schools, etc. from Maharashtra, Madhya Pradesh, Chhattisgarh and other parts of the country prominently participated in this programme.  
Dr. Rakesh Kumar, Director, CSIR-NEERI in his welcome address cited some interesting examples where science could be applied for betterment of the people and environment. Students can do better if they are innovative, creative, and think out of the box, he added. He advocated that the 'Vigyan Yatra' should continue forever for self-reliant India and global welfare.
Dr. (Mrs) Atya Kapley, Scientist and Head, Director's Research Cell (DRC), CSIR-NEERI outlined the role of CSIR-NEERI in IISF-2020. She informed that CSIR-NEERI would coordinate two major events, namely Women Scientists' and Entrepreneurs' Conclave and Sanitation & Waste Management during IISF-2020. The sanitation and waste management event will focus on key strategies for waste management and sanitation aligning with the sustainable development goals (SDGs), and Women Scientists' and Entrepreneurs' Conclave aims to create an environment that motivates women to participate in reshaping the Indian economy and help create a new Aatmanirbhar Bharat, she added.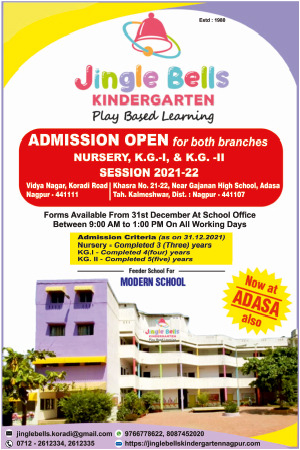 Dr. Umesh Palikundwar, Associate Professor, Department of Physics, RTM Nagpur University described about the role of VIBHA, Vidarbha Chapter in IISF-2020 and nation building. He threw light on the aims of the India International Science Festival (IISF) and Vidarbha Chapter of VIBHA. He recalled the journey of VIBHA-Vidarbha since its inception and its significant role in science and engineering for the society and industry.
Shri Naresh Chafekar, Joint Secretary, Vigyan Bharati, Vidarbha Chapter talked about efforts made by the VIBHA in promoting science through fairs, exhibitions and student-researcher  interactive programmes.
Dr. K V George, Scientist and Head, Air Pollution Control Division (APCD), CSIR-NEERI delivered a popular science lecture on 'Our Atmosphere and Its pollution'. Aligning with the theme 'Vigyan Yatra', the students and teachers were taken on a virtual journey of our atmosphere. Dr. George explained about the evolution and composition of the atmosphere, including earth's atmosphere.
The students interacted with the CSIR-NEERI scientists to encourage their enquiry, feed their curiosity, and deepen their understanding of scientific concepts. IISF promotional video and Dr APJ Abdul Kalam's inspirational video were screened on this occasion.
Mr. Prakash Kumbhare, Sr. Principal Scientist, CSIR-NEERI coordinated the programme and Er. Asheesh Sharma, Principal Scientist, CSIR-NEERI provided IT support.