With the clearance of encroachment by NMC from naka no 13 to Tata Parsi Girls High School, Â has been a great relief for citizens and same was the reaction by the people passing on this way.
The road joining important places like Central Avenue and Railway station was flooded with vendors, specially during Saturday. The Sanichar Bazar, on was a all time headache for the passerby who said "We have to leave our home at least 30 minutes to reach Railway Station, Cotton Market gate. The same problem was there, on returning from Railway station," said a resident of Ganeshpeth on condition of anonymity. Even the residents of Empress City had requested several times to clear the passage.
Adv Ashok Yawale, President of Gurudev Seva Ashram, Subash Road said that clearance of the road for commuters was good and appreciable work, by the Nuisance Detection Squad (NDA) of NMC and City Police, but a place should be alloted to the vendors of Sanichar Market nearby as the market is a source of living for many of the vendors.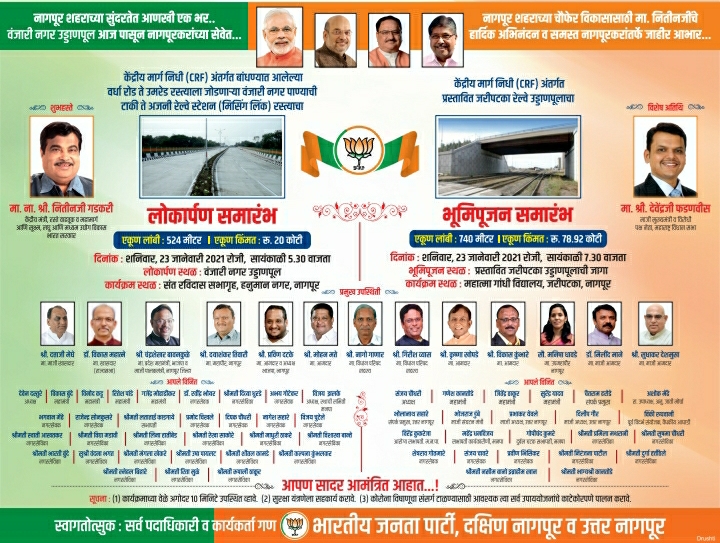 "Its also necessary to look from the side of the poor buyers and sellers, who cannot afford to go to the mall for shopping. Even the market showcased old violin, harmonium and other musical instruments. Antique items and tools new and old, dumbles and other workout instruments was specialty of the market. Even people from upper class used to purchase such items from the Sanichar market," said Adv Yawale.
Ritesh Lohiya, a youth entrepreneur said, "Change is the law of nature, city must be upgraded with times. The lane which has big shopping mall, where we take our guest for shopping and feel proud. Marriage and events take place at Rajwada Palace, and one in Empress Mall, Head office of  Vidarbha Premier, Shikshak Sahakari  Bank and its auditorium which are all busy places. Even the sacred temple of the Parsi's and Tata Parsi Girls High School visitors and daily passers on the road are high. People were reluctant to come to this side due to traffic conjunction. Now with the clearance of the road, traffic movement will be smooth."
Meanwhile where some were happy with the encroachment move, many doubted that for how many days it will last. Another one said, now it's the challenge before the NMC to keep the path clear forever.