After its Bhoomipujan on August 21, 2014 of Nagpur Metro Rail Project construction work started from from 2015 to 2021. This six year journey was a milestone in the success of Maha Metro's Nagpur Metro Rail Project.
On December 2021 Maha Metro intends to start passenger service on Central Avenue, (Rich-4) and Kamptee Marg (Rich-2). Sitabuldi Inter change to Khapri Metro Station and Sitabuldi to Lokmanya Nagar route is setting a new record by getting good response from the citizens. The work of Nagpur Metro is being glorified in other cities of the state as well.
In addition, the budget presented by the Central Government recently includes Phase-II of the Nagpur Metro Rail Project. Phase-II of Nagpur Metro Rail Project is 43.8 km long and includes 32 metro stations. It is to be noted that substantial provision has been made for Nagpur Metro Rail Project Phase II as well as Nashik Metro Rail Project. The cooperation of the citizens during the construction of the Nagpur Metro Rail Project helped in speeding up the work. Nagpur Metro is definitely my metro for the people of Nagpur.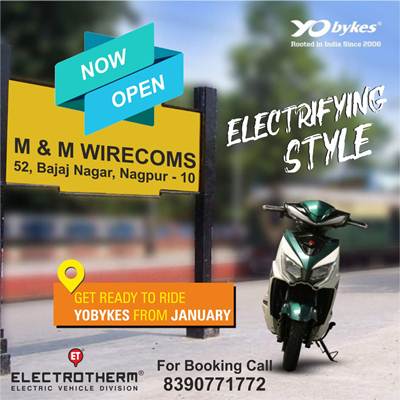 Some of the highlights of the 6 year journey from 2014 are:
On August 21, 2014, Bhoomipujan of Nagpur Metro Rail Project was done by Prime Minister Narendra Modi. On February 18, 2015 Nagpur Metro Rail Project was established. On March 21, 2015 unveiling of Nagpur Metro Project website and logo was done. On May 31, 2015 commencement of work of Nagpur Metro. On April 10, 2015 loan agreement between KFW and Nagpur Metro for 500 million Euros was done. On November 17, 2015 AFD France and Nagpur Metro sign a MoU of Rs 130 million loan agreement. On January 23, 2017 Conversion of Nagpur Metro into Maha Metro was done.
On April 4, 2017 met on the occasion of National Security Day a human chain was formed which got registrated in Limca Book and India Book of records. On August 2, 2017 first 3 Metro coaches arrive in city. On September 30, 2017 trial run of Nagpur Metro Rail Project begins and Maha Card launched. On April 21, 2018 Joy ride between Airport South to Khapri was held. On May 4, 2018 Inauguration of Information Center at Civil Lines. On 16 July 2018 Memorandum of Understanding between Maha Metro, Government of India and State Government for Broad Gauge Metro. November 2, 2018: 3-day Urban Mobility India Conference in Nagpur was held.
On November 22, 2018 Metro train departs from CRRC Dalian plant in China. On January 8, 2019 State Government's approval for Phase-II Metro project of Nagpur Metro at a cost of Rs. 11,216 crore. On January 15, 2019 Memorandum of Understanding between Maha Metro and Nagpur Municipal Corporation for the development of Cotton Market, Orange Market, Orange Market, Gol Bazaar, Netaji Market. On March 7, 2019: Prime Minister Narendra Modi inaugurated Nagpur Metro Orange Line (Khapri to Sitabardi Interchange), Chief Minister Devendra Fadnavis and Union Minister Nitin Gadkari and other ministers were present.
On May 31, 2019 first trial run of Lokmanya Nagar to Subhash Nagar of Aqua Line completed. On July 16 German Ambassador to India Walter Lyndon and KFW delegation visit Nagpur Metro Rail Project. On August 15, 2019 Independence Day at Maha Metro and first trial run between Subhash Nagar and Sitabardi Interchange. On August 31, 2019 unveiling of Maha Card and Amp for Passengers. On November 4, 2019, Rich-4 (Sitabardi to Prajapati Nagar) last segment of Vyadwt cast, On November 5, 2019: National Highways Authority of India (NHAI) approves double decker flyover at Kamaptee Road (Automotive Chowk to LIC Chowk) and on November 20, 2019 Jayaprakash Nagar on Orange Line route